Hong Kong: Charges against student activist Tony Chung 'expose Government's disdain for freedom of expression'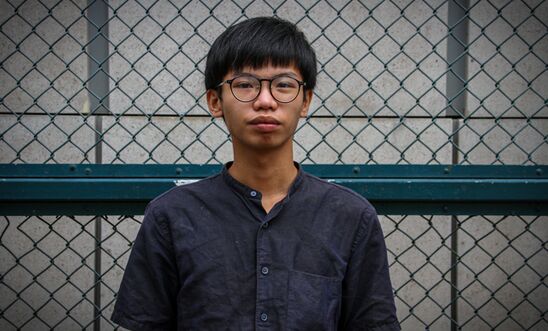 Chung, pictured, was arrested on Tuesday near Hong Kong's US consulate, where media reported he was planning to seek asylum © NurPhoto via Getty Images
Former leader of group Studentlocalism, charged under new national security law with secession, money laundering and conspiracy to publish seditious material
'[Chung] has been targeted solely for exercising his right to freedom of expression and should be released immediately and unconditionally' - Joshua Rosenzweig
Responding to Hong Kong student activist Tony Chung being denied bail while facing charges including secession under the new national security law, Joshua Rosenzweig, Head of Amnesty International's China Team, said:
"The intensifying attack on human rights in Hong Kong has been ramped up another notch with this politically motivated arrest in which a peaceful student activist has been charged and detained solely because the authorities disagree with his views.
"The charges brought against Tony Chung once again expose the Hong Kong government's disdain for freedom of expression and dissent.

"Chung's detention comes against the backdrop of a rapidly shrinking space for critical voices on campus. Students have the right to put forward their political views like everybody else.

"At a time when the Hong Kong Police are reportedly set to launch a 'hotline' to gather intelligence from the public on those purported to have violated the national security law, the climate of fear in the city grows ever more oppressive. 

"Tony Chung has been targeted solely for exercising his right to freedom of expression and he should be released immediately and unconditionally, and all charges against him dropped."
Repressive laws to muzzle critics
Tony Chung, a former leader of student-led group Studentlocalism, was today charged under the Hong Kong national security law with secession, money laundering and conspiracy to publish seditious material.
He becomes the second person charged under the repressive law since it was enacted on 30 June, the other being the Apple Daily newspaper founder Jimmy Lai.
Chung was arrested on Tuesday near Hong Kong's US consulate, where media reported he was planning to seek asylum. Two other former members of Studentlocalism, Yanni Ho and William Chan, were also arrested on the same day. Chung was denied bail after appearing in court today.
Police said Tony Chung's case has been adjourned until 7 January, pending further investigation. He was previously arrested on July 30 over his social media posts and released on bail.
Studentlocalism is an organisation advocating for political reforms in Hong Kong. It publicly announced the dissolution of its Hong Kong branch the day before the security law was enacted.
According to media reports this week, the national security unit of the Hong Kong Police Force is set to launch a new hotline for the public to report information that would help enforce the new legislation.
The national security law criminalises acts of "separatism, subversion, terrorism and collusion with foreign or external forces", with offences punishable by a minimum sentence of three years and a maximum of life imprisonment. At least 29 people have been arrested under the law since it was enacted.