Governments must release innocent 'prisoners of conscience' around the world immediately as prisons become COVID-19 hotspots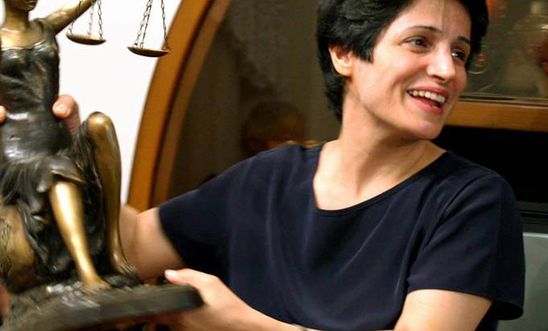 Nasrin Sotoudeh was arrested in 2018 and sentenced to 38 years and six months in prison as well as 148 lashes after two grossly unfair trials
Amnesty is campaigning for the release of 150 individuals detained for peacefully exercising their human rights - but warns there are likely thousands more in same situation
Prisons becoming COVID-19 hotspots thanks to cramped and unsanitary conditions – as well as epicentres of violence with coronavirus-related riots
'Authorities should not waste another minute deliberating whether [prisoners of conscience] are a danger to society' - Kate Allen
Amnesty International is calling for the immediate release of prisoners of conscience worldwide, especially now they are at heightened risk due to the COVID-19 pandemic.
Amnesty is campaigning for the release of some 150 prisoners of conscience – individuals who are detained solely for peacefully exercising their human rights - but there are likely thousands more innocent people in the same situation. 
These alleged "criminals" may have peacefully campaigned for legislative change within their country, spoken out against human rights violations or worked towards greater equality for people within their society - quite simply, they refused to keep quiet. 
Kate Allen, Director of Amnesty International UK, said: 
"Governments around the world must take urgent action to release prisoners of conscience - people who should never have been imprisoned in the first place. As media reports from around the world reveal how prisons are becoming COVID-19 hotspots thanks to cramped and unsanitary conditions – as well as epicentres of violence with coronavirus-related riots -  authorities should not waste another minute deliberating whether these people are a danger to society. 

"Countries across the globe have released many prisoners who they have defined as 'low risk' or are coming to the end of their sentence, yet far too many prisoners of conscience remain behind bars. These people never warranted jail - they were confined for peacefully exercising their human rights."
Trapped and at serious risk
The prisoners of conscience Amnesty is campaigning on behalf of include:
Prisons and COVID-19: A wider problem of human rights
In addition to freeing prisoners of conscience, Amnesty is calling on governments to take steps to curb the spread of the pandemic, including by decongesting prisons. Amnesty is increasingly concerned by overcrowded prisons and detention centres across the world – disturbing images emerging from prisons in El Salvador and Lebanon reveal inmates being held in demeaning and dangerous conditions.
The authorities should also review cases of people in pre-trial detention as well as children, and consider the early, temporary or conditional release of people at particular risk, such as older people and those with underlying medical conditions. 
The organisation is also urging governments to provide a standard of healthcare for people that remain in prison that meets each person's individual needs, similar to what is available in the community, and that it ensures the maximum possible protection against the spread of COVID-19. Prison staff and inmates must also be provided with proper protective equipment.
For more information relating to our work on COVID-19, click here.