Global: Unregulated trade in law enforcement weapons fuelling protest violations – New Investigation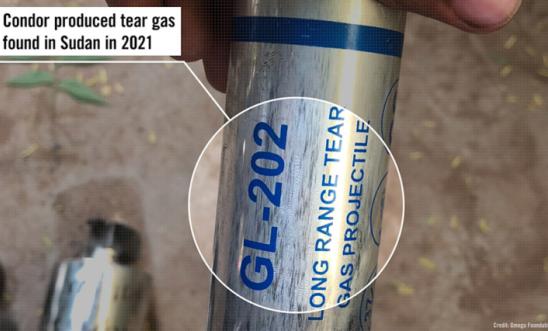 Weapons including tear gas, rubber bullets, batons and stun grenades being sold to countries using them to violently repress protests
Companies from China, France-Italy, South Korea and the USA dominating the market in selling lethal weapons
'The companies producing these weapons have a responsibility to put an end to their irresponsible trade in law enforcement equipment' - Patrick Wilcken
'The UK is a major exporter of arms… and it's worrying that so far ministers appear to have been virtually silent on these vital UN negotiations'- Oliver Feeley-Sprague
Companies selling less lethal weapons to countries that abuse them to suppress protests, and states licensing these exports, are fuelling a global human rights crisis and must stop this irresponsible trade, Amnesty International said in a new investigation published today.
Amnesty's report, The Repression Trade: Investigating the Transfer of Weapons Used to Crush Dissent, identifies 23 major producers of less lethal equipment and hunting ammunition whose products have been used unlawfully in protests in 25 countries worldwide. The weapons – including tear gas, rubber bullets, batons and stun grenades – have been regularly used in human rights violations, including the torture or other ill-treatment of protesters and detainees across the world.
Amnesty used open-source techniques, weapons analysis and trade data to show how the lack of transparency and state regulation of the trade in law enforcement equipment must be urgently addressed.
Patrick Wilcken, Amnesty International's Researcher on Military, Security and Policing Issues, said:
"In recent years, less lethal weapons have repeatedly been used to intimidate and punish protesters, causing thousands of avoidable injuries and scores of deaths worldwide.

"Some companies have routinely exported weapons to countries with shocking human rights records, despite reports that this equipment is being abused. The woeful lack of state regulation of the trade is enabling human rights violations and undermining the right to peaceful protest all around the world.

"The companies producing these weapons have a responsibility to put an end to their irresponsible trade in law enforcement equipment. It's time that these companies fully respect all human rights wherever they operate."
Countries that approve and license these exports are facilitating serious human rights violations, including torture and other ill-treatment, and urgently need to regulate this trade.
Amnesty is calling on countries, including the UK, to heed the calls of the UN Special Rapporteur on Torture and support a robust Torture-Free Trade Treaty that would prohibit inherently abusive law enforcement equipment, and introduce strict, human rights-based controls over the trade in law enforcement equipment that is often used for torture or other ill-treatment.
Oliver Feeley-Sprague, Amnesty International UK's Military, Security and Police Programme Director, said:
"The UK is a major exporter of arms, including some of the crowd-control ammunition highlighted in this report, and it's worrying that so far ministers appear to have been virtually silent on these vital UN negotiations.

"Now's the time for the Government to make clear that it unequivocally supports proper controls on the export of equipment which is being used to crush peaceful protests around the world."
The companies profiting from pain
Reviewing protest footage from the last decade, Amnesty found evidence of the reckless use of less lethal weapons in all regions worldwide, sometimes with deadly consequences.
Amnesty's flagship campaign, Protect the Protest, has exposed numerous violations of the right to protest globally. Countries across the world continue to misuse less lethal weapons such as tear gas, rubber bullets, pepper spray, and batons to harass, intimidate, punish, or drive away protesters, shutting down their right of peaceful assembly.
The trade in less lethal weapons, including crowd control equipment, is now increasingly globalised. China, South Korea, the USA and major European states dominate the market, but companies in developing economies – such as Brazil, India, and Turkey – also produce weapons for their domestic market, and export widely.
Cheddite is a French-Italian company that produces shells and cartridges. Cheddite cartridges, which can be filled with lead shot that is used for hunting, have been used unlawfully against protesters in Iran. Verified photographs of spent Cheddite-branded shotgun shells have also appeared on social media during protests in Myanmar and Senegal that were marred by human rights violations.
Combined Systems is one of the largest producers of less lethal weapons in the USA. Amnesty has verified images of their products in use in the USA, as well as in a series of other countries where security forces have routinely used unlawful force to crack down on protesters, including Egypt, Israel, Tunisia and Colombia.
Norinco Group is a Chinese state-owned corporation that manufactures a wide range of conventional weapons systems. Verified images of armoured vehicles and less lethal weapons manufactured by Norinco Group have appeared in Kenya, Venezuela, Georgia, Guinea, Bangladesh and Sri Lanka amid protest-related human rights violations.
Two South Korean companies are also featured in the investigation. Amnesty has documented the unlawful use of DaeKwang Chemical Corporation's tear gas and other less lethal equipment in Bahrain, Myanmar, and Sri Lanka. Amnesty has also verified footage and obtained photos showing police using tear gas grenades exported by CNO Tech to suppress protests in Sri Lanka and Peru.
In line with the UN Guiding Principles on Business and Human Rights, companies must develop and implement human rights due diligence policies and processes that identify and address the human rights risks related to their operations and value chains. 
Companies exporting equipment that is at risk of being misused by police and security forces – particularly to countries with a poor record of compliance with international human rights law – must apply human rights due diligence before proceeding with any sale. If it is impossible to prevent or mitigate the potential adverse human rights impacts of the use of their products and services, then the company should suspend or cease supply in a responsible manner.
Patrick Wilcken added:
"While it is not always possible to trace precise chains for specific types of weapons, our evidence strongly indicates longstanding patterns of irresponsible trade continue to cause harm,"

"Companies manufacturing this equipment have a responsibility to respect human rights and should not be exporting to countries where less lethal weapons risk being used unlawfully against protesters.

"Countries must support the recommendations in the UN Special Rapporteur on Torture's report released today  in New York to develop legally-binding international law to regulate this trade."
Amnesty's Protect the Protest campaign is calling on governments to send a clear message that protesters should be protected, and to remove unnecessary barriers and restrictions to peaceful protest.
ENDS
Amnesty International UK media information:
Rachel Reilly: rachel.reilly@amnesty.org.uk
Out of hours: 07721 398984: www.amnesty.org.uk
Twitter: @NewsFromAmnesty