Giro d'Italia cycle race won't 'sportswash' Israel's human rights record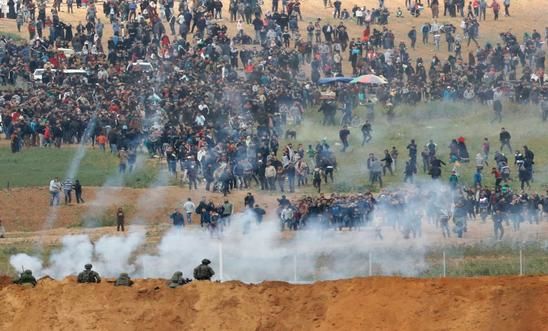 Israeli soldiers firing tear gas grenades on Palestinian protesters during Land Day protests on 30 March © JACK GUEZ/Getty Images
'The Jerusalem launch inevitably means Israel's dismal human rights record is going to be in the spotlight' - Kate Allen
Ahead of the commencement of the Giro d'Italia national cycle race, which has its starting stage in Israel tomorrow, Kate Allen, Amnesty International UK's Director, said: 
"We're not going to tell the Giro d'Italia organisers where they should and shouldn't start the race, but the Jerusalem launch inevitably means Israel's dismal human rights record is going to be in the spotlight. 
 
"The authorities in Jerusalem may have thought that the glitz of Giro d'Italia might have a 'sportswash' effect, removing some of the stain of Israel's human rights record. Instead, it's likely to bring it back into focus yet again.
 
"The Giro d'Italia riders will begin the race only weeks after the Israeli security forces unleashed excessive, deadly force against Palestinian protesters in Gaza, including children.
 
"The race will set off right next to East Jerusalem where Palestinians are facing house demolitions, illegal settlement building and a host of restrictions on their movement.   
 
"We'd advise all the cyclists and their support teams to consult our reports on the situation in Israel and the Occupied Palestinian Territories, and be prepared to field questions about the human rights situation.
 
"The Giro d'Italia teams should use their influence to ensure that the race is not linked to human rights violations, including the suppression of any protests, the mistreatment of Palestinian contractors or restrictions on Palestinian spectators."
'Murderous assault' on Palestinian protesters
Amnesty has recently accused Israeli security forces of carrying out a "murderous assault" on Palestinians taking part in "Great March of Return" protests in the Gaza Strip. The Israeli military have killed 35 Palestinians and injured more than 5,500 others - some with what appear to be deliberately-inflicted life-changing injuries - during weekly Friday protests which began on 30 March.
Amnesty has renewed its call on governments worldwide to impose a comprehensive arms embargo on Israel following its disproportionate response to mass demonstrations along the fence that separates the Gaza Strip from Israel.
For more on the human rights situation in Israel and the Occupied Palestinian Territories, go here.