Ferguson, USA: new report condemns 'excessive force' of police response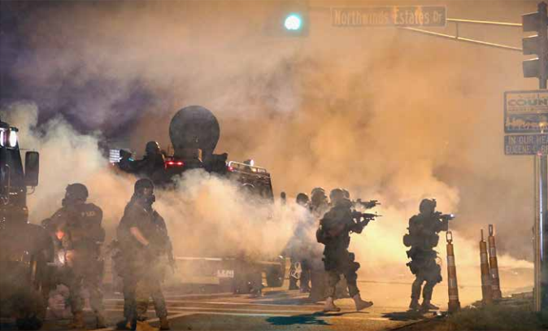 'There must be accountability and systemic change that follows this excessive force' - Steven W Hawkins
Amnesty International has released a new report documenting the human rights violations witnessed first-hand during recent protests in the city of Ferguson in the US state of Missouri after the police shooting of the unarmed black teenager Michael Brown.
The 20-page report - "On the Streets of America: Human Rights Abuses in Ferguson" - details the impact of city, county and state law-enforcement officers and officials' responses on the rights of individuals in Ferguson to participate in peaceful protest. 
Unwarranted restrictions were placed on protesters, including the imposition of curfews, designated protest areas and a "five-second" keep walking rule. Meanwhile, protesters were clearly subjected to intimidation, with law-enforcement officials using heavy-duty riot gear and military-grade weapons as well as questionable protest-dispersal practices - including the use of tear gas, rubber bullets and long-range acoustic devices.  
Amnesty International USA Executive Director Steven W Hawkins said:
"The events in Ferguson sparked a much-needed and long-overdue conversation on race and policing in America. That conversation cannot stop. In order to restore justice to Ferguson, and every community afflicted by police brutality, we must both document the injustices committed and fight to prevent them from happening again. 

 

"Standing on West Florissant Avenue with my colleagues, I saw a police force, armed to the teeth, with military-grade weapons. I saw a crowd that included the elderly and young children fighting the effects of tear gas. 

 

"There must be accountability and systemic change that follows this excessive force."
Investigation needed into Michael Brown's shooting
Amnesty's report makes several recommendations to local, state and federal authorities regarding the use of lethal force and the policing of protests, and also renews its call for the Department of Justice (DOJ) to conduct an independent, transparent and impartial investigation into Michael Brown's death. Amnesty is also calling for the Department of Justice to promptly implement a DOJ-led review of police tactics and practices nationwide, and release nationwide data on police shootings. Additionally, Amnesty is pressing the US Congress to pass the Stop Militarizing Law Enforcement Act.
Meanwhile, Amnesty's report is also urging the Missouri Legislature to amend the Missouri statute that authorises the use of lethal force (Mo. Rev. Stat. § 563.046) to ensure that the use of lethal force by law-enforcement officers would be limited to only those instances in which it is necessary to protect life. 
Harassment of journalists
The mistreatment of journalists and observers is also highlighted in Amnesty's report. Between 13 August and 2 October, at least 19 journalists and members of the media were arrested by law-enforcement officials while others were subjected to tear gas and the use of rubber bullets. Journalists working for CNN, Al Jazeera America and other outlets report being harassed or physically threatened.  Likewise, legal and human rights observers have also faced arrest for carrying out their roles.