Crimea: Jehovah's Witness sentenced to six years in penal colony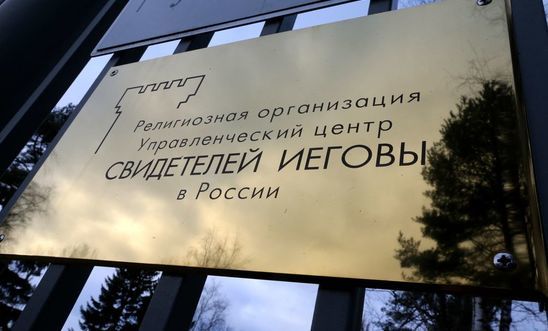 A sign outside the administrative centre for the Jehovah's Witnesses in the Russian town of Solnechnoye © Alexander Demianchuk\TASS via Getty Images
Sergei Filatov is 'prisoner of conscience', says Amnesty
Case is first of its kind in Russian-occupied Crimea
'It's the latest example of the wholesale export of Russia's brutally repressive policies to Crimea' - Marie Struthers
A Jehovah's Witness believer in Russian-occupied Crimea has been sentenced to six years in a penal colony after being found guilty of "organising the activities of an extremist organisation", the first case of its kind in the Russian-occupied territory.
Sergei Filatov was given the sentence by the Dzhankoi District Court earlier today. 
In a separate case, Artyom Gerasimov, a Jehovah's Witness in the city of Yalta, in southern Crimea, has been fined 400,000 rubles (£4,600).
The case against Sergei Filatov began when more than 200 law-enforcement officials raided eight Jehovah's Witnesses homes in the town of Dzhankoi in northern Crimea in November 2018. Filatov's home, where he lived with his wife and four children, was among those raided.
A criminal case was opened against him under Article 282.2 (1) of the Russian Criminal Code ("organisation of the activities of an extremist organisation"). According to the investigation, his activities included conducting "religious meetings … and propaganda of religious ideas … using the place of [his] registration and residence". His trial started last September. 
Meanwhile, a criminal case against Artyom Gerasimov was initiated in March last year. The investigation claimed his participation in Jehovah's Witnesses' religious services amounted to "organising the activities of an extremist organisation". 
Amnesty is calling for Sergei Filatov and all other Jehovah's Witnesses imprisoned solely for peacefully exercising their right to freedom of religion and belief to be immediately and unconditionally released, their convictions quashed and all charges against them dropped.
Marie Struthers, Amnesty International's Eastern Europe and Central Asia Director, said: 
"Sergei Filatov is a prisoner of conscience, facing years in a penal colony solely for expressing his faith. 
 
"It is chilling to see the Russian authorities roll out their pursuit of Jehovah's Witnesses across the border - it's the latest example of the wholesale export of Russia's brutally repressive policies to Crimea.

"Across Russia, Jehovah's Witnesses are being sent to jail, tortured and harassed under vague counter-extremism legislation."
Crackdown on Jehovah's Witnesses
Since 2009, Jehovah's Witnesses have faced persecution and harassment in Russia under the country's "counter-extremism" legislation. 
In April 2017, the Russian Supreme Court ruled that all Jehovah's Witness organisations should be closed down. A month later, Dennis Christensen, a Danish national, was the first Jehovah's Witness to be arrested in Russia under this law, and more than 300 followers of the faith have been prosecuted since. Dozens have complained of torture and other ill-treatment in custody. None of their complaints have been effectively investigated. 
Meanwhile, more than 200 Jehovah's Witnesses have been put on a list of "extremists and terrorists" by Rosfinmonitoring, the Russian government agency dealing with illegal financial transactions. Inclusion on the list results in the automatic blocking of bank accounts and debit and credit cards, and effectively deprives people of all means of subsistence.
Russia annexed and occupied Crimea, Ukraine's southern peninsula, in violation of international law in February-March 2014. It has imported its repressive legal framework wholesale into the territory, using it to prosecute and silence numerous people in Crimea.