Celebration of Palestinian culture to mark 70 years of dispossession (RADA, London, 14-20 May)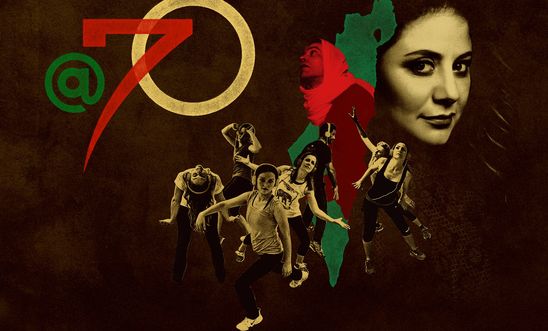 The week of drama, music and politics comes against a backdrop of serious violence in Gaza
Week-long @70: Celebration of Contemporary Palestinian Culture events at RADA will highlight 'cultural resistance'
Amnesty International UK is supporting a week-long London festival of theatre, dance, films and talks commemorating the Palestinian experience of dispossession and loss of a homeland later this month.
Marking the 70th anniversary of the "Nakba", or "Catastrophe", when some 700,000 Palestinians were forced to leave their land in 1948, the @70: Celebration of Contemporary Palestinian Culture events will see performances of work by several leading Palestinian artists as well as talks on human rights and politics. 
Taking place at the Royal Academy of Dramatic Arts in central London during 14-20 May, performances will include Ahmed Masoud's acclaimed satirical play The Shroud Maker, Ahmed Najar's Project 51 on the 51-day Gaza war in 2014, and Azza El Hassan's documentary film Kings and Extras: Digging for a Palestinian Image.
There will also be live performances from the singer Sana Moussa, whose work celebrates indigenous traditions in the face of occupation and globalisation.
The RADA events come during a week expected to see Nakba-related protests in the Israeli-occupied Palestinian Territories. Since "Great March of Return" protests began in Gaza at the end of March, 35 Palestinian protesters have been killed by the Israeli military while more than 5,000 people have been injured. Amnesty has condemned a "murderous assault" on protesters by Israeli forces and called for an international arms embargo on Israel. 
For the past year Amnesty has also been campaigning for all countries, including the UK,  to prohibit goods made in the illegal Israeli settlements from entering their markets and to prevent their companies from operating in settlements or trading in settlement goods. 
Kristyan Benedict, Amnesty International UK's Campaigns Manager, said:
"Amnesty International UK is honoured to support this important week of cultural resistance. 

"It's an opportunity for us to highlight our 'Ban Israeli Settlement Goods' campaign and show our solidarity with all those, especially Palestinians, who are working to put an end to the violence and discrimination suffered by Palestinians living under Israel's brutal occupation."
Programme of events
Monday 14 May, 7pm: The Shroud Maker and screening of 'Portraits of Palestine', plus Q&A
Tuesday 15 May, 7pm: The Shroud Maker followed by a presentation from Amnesty International UK campaigner Jon Cornejo on current Amnesty work on Israel and the Occupied Palestinian Territories
Wednesday 16 May, 7pm: presentation by the Amos Trust on Their Just Walk Campaign followed by The Shroud Maker 
Thursday 17 May, 7pm: The Shroud Maker followed by a concert by Sana Moussa
Friday 18 May, 7pm: Project 51 followed by music by Sana Moussa
Saturday 19 May, 7pm: Project 51 followed by The Shroud Maker and a Q&A with the artists on cultural resistance  
Sunday 20 May, 7pm: The Shroud Maker followed by screening of Kings and Extras, and a Q&A.
All events will take place at RADA Studios, 16 Chenies Street, London WC1E 7EX. For tickets and more information on individual events, go here.