Cambodia: Supreme Court upholds 'deeply flawed' conviction against land activist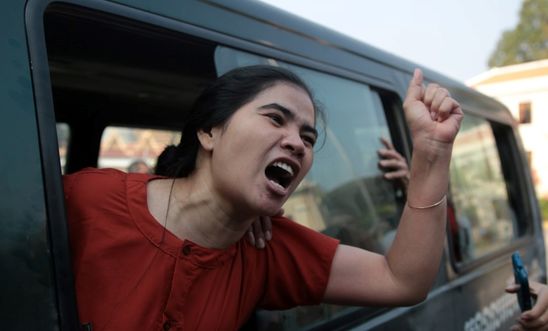 Tep Vanny pictured at a previous court hearing
Reacting to the news that the Cambodian Supreme Court today upheld the conviction and 30-month prison sentence for land rights activist Tep Vanny, Amnesty International's Director for Southeast Asia and the Pacific, James Gomez, said:
"With today's ruling, Cambodia's judiciary has once again failed to prove that it can act independently, choosing to do the government's bidding instead.

"Tep Vanny is a brave social activist who has done nothing but peacefully stand up for her community. She should be released immediately and unconditionally, not forced to spend two-and-a-half years in jail.

"The criminal proceedings against Tep Vanny have been deeply flawed from the start. She has become a symbol for the fight for justice in Cambodia and is someone the authorities have been determined to take off Cambodia's streets by any means necessary.

"Today's ruling is just the tip of the iceberg. The Cambodian government and Prime Minister Hun Sen have intensified a disturbing crackdown on any form of dissent over the past year.

"The world must wake up to what is happening in Cambodia and push the government to change course away from repression and towards respect for human rights - in particular as general elections due in July are approaching."
Arrest after peaceful protest
On 23 February last year, Phnom Penh's First Instance Court convicted Tep Vanny of "intentional violence with aggravating circumstances" and sentenced her to two years and six months' imprisonment. The sentence was based on her peaceful participation in a March 2013 protest in front of Prime Minister Hun Sen's house, calling for the release of one of the arbitrarily detained Boeung Kak Lake Community members.
Tep Vanny was also ordered to pay a fine of five million Cambodian Riel (approximately £900), as well as compensation payments to the plaintiffs, both of whom are members of Phnom Penh's Daun Penh district para-police. The day of the trial was marked by para-police using unnecessary force against her peaceful solidarity-showing supporters outside the court. On 27 July last year, Phnom Penh's Appeal court heard her appeal and upheld both the conviction and prison sentence.
Tep Vanny is a prisoner of conscience who has spent a total of 541 days in arbitrary detention as of today. She is one of Amnesty's Brave campaign cases, dedicated to supporting human rights defenders around the world.