"Even when she was beaten in protests, she would join the next day. If anyone is in trouble my daughter will support them for justice. She is so brave. My daughter cannot be bought. She stands firm and would not give up."
Tep Vanny's mother is deeply proud of her daughter's activism. But these days she rarely gets to see her.
That's because Vanny has been in prison for over a year now simply for standing up against a luxury tourist construction project in her home town that's seen thousands of families lose their homes.
The women defending Boeung Kak lake
There's nothing left of Boueng Kak — a lake in Cambodia's capital city of Phnom Penh where a huge construction project has seen whole communities illegally evicted.
Tep Vanny is one of 13 women who have been organising protests against the development since it began in 2007. Since then she's been repeatedly harassed, beaten, arrested five times and sent to prison on politically motivated charges.
Most recently arrested on 15 August 2016, she's been jailed ever since, sentenced to spend two and a half years in Prey Sar prison, and fined the equivalent of £2,600 — around twice the yearly minimum wage in Cambodia.
She has argued that there was no real evidence to prove the charges brought against her. But despite fierce legal battles her conviction was upheld on 8 August 2017 and it seems certain she'll serve the full 30 month sentence.
She is not a criminal. All she is guilty of is peacefully protesting the right of her community to live where they've called home for generations.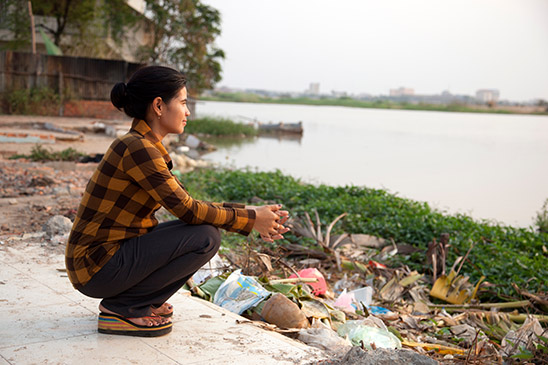 Vanny looks out over the lake before it was filled in.
Family and friends left behind
In July 2017 Amnesty's Josef Benedict travelled to Cambodia to find out more about Vanny and the community she holds so dear.
Meeting some of the women who stood by her side, they said how sad they were that Vanny was in prison, and how much they missed her — even saying how they wish they were in jail by her side.
Vanny also has two young children – a 12-year-old girl and a 10-year-old boy – who badly miss their mother. Her family only get to see her a couple of days a month, and only if various payments are paid to shady prison guards.
"Tep Vanny is innocent. She is a woman who is greatly committed to fulfilling her duty as a citizen. Yet, she has been imprisoned three times already, because of the Cambodian judicial system" said Song Sreyleap, a fellow Boeung Kak Lake community activist.
"Tep Vanny is the only woman activist in Cambodia who has been imprisoned and arrested so many times. This is very unjust for her; her children have to live without the mother's care for one year. However, even with all the threats, her will remains unchanged."
The crackdown in Cambodia
Meeting other Cambodian activists, we heard how the government uses the law to silence human rights defenders. Thanks to its tight grip on the criminal justice system, authorities continue to bring trumped up charges against anyone in their way, including political opponents, trade union activists, human rights activists, and political commentators.
The crackdown is getting worse ahead of the country's 2018 elections. 20 human rights defenders and political activists are currently behind bars. Hundreds more face jail time, often left in limbo with criminal charges hanging over them for months or even years, not knowing when they'll finally face trial.
Corruption is so bad that the legal process itself is often the punishment. 64 civil society organisations have called for Vanny's release and for an end to Cambodia's ruthless assault on human rights defenders in general.
Download our full report on the situation in Cambodia to learn more.
Downloads