Belarus: Lukashenko makes sport a 'battleground' for athletes who dare to speak out against government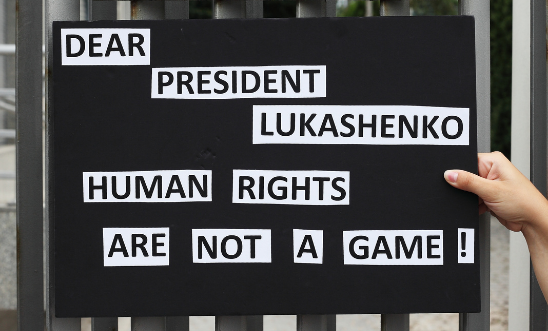 © Amnesty International Polandphotographer: Grzegorz Żukowski
Krystsina Tsimanouskaya among many athletes in Belarus facing reprisals from the government
Yelena Leuchanka, two-time Olympic champion basketball player spent over two weeks in notorious Akrestsina detention centre in Minsk for speaking out
'Belarusian athletes have paid a high price for daring to speak out' - Heather McGill
Following the news of  athlete Krystsina Tsimanouskaya refusing to board a 'forced' flight home from Tokyo and seeking asylum at the Polish embassy in Tokyo, Amnesty International has revealed that many Belarusian athletes have sacrificed their careers and freedom for daring to speak out against human rights violations.
Like Krystsina, dozens of athletes interviewed by Amnesty have said they have been singled out for punishment because President Alexander Lukashenko is a keen sportsman - playing amateur ice hockey and, until last December, personally headed up the Belarusian National Olympic Committee.
The reprisals against the athletes came after more than 1,000 athletes signed an open letter last August calling for new elections, an end to torture and other ill-treatment, as well as a stop to arrests of peaceful demonstrators.
According to the Sports Solidarity Foundation, an NGO set up to support athletes who suffer reprisals because of their political views, a total of 95 Belarusian athletes have been detained for taking part in peaceful protests. Seven of them have been charged with political offences for their peaceful opposition to the government, and 124 have suffered other forms of repression including 35 athletes and trainers who have been dropped from the national team.
Heather McGill, Amnesty International's Eastern Europe and Central Asia Researcher, said:
"The sporting administration has been subject to direct government control under Lukashenko.

"Belarusian athletes have paid a high price for daring to speak out and it's clear that sport is now a battleground for reprisals in Belarus.

"Athletes are favoured by the state and honoured by society, and it is not surprising that athletes who speak out find themselves a target for reprisals.

"We encourage everyone to stand in solidarity with persecuted Belarusian athletes."
Three times Olympic medalist, Alyaksandra Herasimienia, who has been running swimming training schools for Belarusian children for the last two years after quitting competitive swimming, felt compelled to speak out on social media and was faced with a dilemma. Alyaksandra, said:
"I had the choice to speak out or stay silent. We rent swimming pools from the state to hold our courses. All swimming pools are state-owned in Belarus, and therefore I understood if I spoke out my colleagues would suffer and the children too. At first, I didn't know what to do, but after a few days I realised that I couldn't stay silent."
Within a matter of days, she lost all her contracts with swimming pools across Belarus.
Alyaksandra went on to head the Sport Solidarity Foundation which has successfully lobbied the International Olympic Committee to demand the replacement of Alexander Lukashenko as head of the national Olympic Committee and has ensured that a number of international sporting events have not been held in Belarus.
In April this year, the Belarusian Investigative Committee announced that it had opened a criminal case against Alyaksandra Herasimienia and her colleague Alyaksandr Apeykin, the Director of the Sport Solidarity Foundation. They have been accused of "inciting actions aimed at damaging the national security of Belarus," a crime punishable by up to seven years' imprisonment.
Yelena Leuchanka, one of the best-known athletes in Belarus, is a two-time Olympic champion basketball player. She felt compelled to speak out about what was happening in Belarus by signing the open letter and posting her opinions on social media. She was arrested at Minsk airport in September last year as she was about to leave for treatment of a sporting injury in Greece. She spent 15 days in the notorious Akrestsina detention centre in Minsk and told Amnesty that her cell was singled out for particularly harsh treatment. Yelena, said:
"On the first night we had mattresses, water and the toilet flushed, but two days later everything kicked off. After breakfast a guard came in and ordered us to roll up our mattresses…initially we thought that they had removed the mattresses to air them and to get rid of the fleas and bedbugs, but they never gave them back to us."
She spent 15 days in a four-person cell, most of the time with five occupants. Forced to sleep on the metal frames of the beds, they attempted to ease the discomfort with clothing, newspaper, and sanitary towels. They were told by the director of the detention centre that it was deliberate "to make sure that they did not want to return."