Belarus: Detained protesters 'beaten and tortured' - new testimony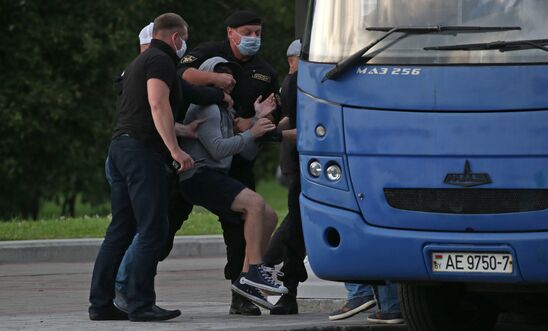 © © Natalia Fedosenko/TASS/Getty
Protesters in Belarus are being tortured or subjected to other ill-treatment in detention centres - including being stripped naked, beaten, and threatened with rape - according to shocking new testimony gathered by Amnesty International and local human rights groups.
Crowds outside a detention centre in Minsk say the screams of torture victims are audible from outside, which has been corroborated by video footage. The evidence points to a campaign of widespread torture and other ill-treatment by the Belarusian authorities, who are intent on crushing peaceful protests by any means. 
In recent days, Amnesty delegates in Minsk have been monitoring the vicious response to protests and have interviewed former detainees. Their testimonies indicate that the Belarusian authorities are resorting to increasingly drastic measures to crush dissent.  
According to numerous testimonies, detainees in Minsk and other cities and towns in the country are severely beaten for the entire duration of their detention, starting from the moment when they are dragged inside police buses. The abuse continues in the police stations, and in the temporary detention centres where they are held until release or trial.  
Marie Struthers, Amnesty International's Director for Eastern Europe and Central Asia, said: 
"For days the world has watched in horror as police in Belarus fire rubber bullets and tear gas, into crowds of peaceful protesters. It is now becoming increasingly clear that the bloody scenes on the streets of Belarus are just the tip of the iceberg.

"Former detainees told us that detention centres have become torture chambers, where protesters are forced to lie in the dirt while police kick and beat them with truncheons. They described being stripped naked and subjected to sadistic beatings while listening to the screams of other victims.

"These reports are not isolated incidents. The abundance of torture reports from across the country, corroborated video and photo images widely shared on the social media, are so widespread that it is highly probable that the approach has been sanctioned at the highest level.

"What we are seeing in Belarus is a human rights catastrophe that demands urgent action. These are people whose only 'crime' was to take to the streets in peaceful protest. We once again call on the Belarusian authorities to end this brutal campaign and allow protesters to voice their opinions without fear of violent reprisals."
Amnesty is calling on international leaders to put pressure on the government of Belarus to stop the mass human rights violations unfolding in the country. 
Forced to lie in the dirt 
Katsyaryna Novikava told Amnesty that she was detained in the centre of Minsk on Monday evening (10 August) while walking to a supermarket. She spent 34 hours at the Centre for Isolation of Offenders, Katsyaryna saw that the entire yard of the facility was filled with arrested men who had been forced to lie down in the dirt. Inside the centre, dozens of men were told to strip naked and get down on all fours while officers kicked and beat them with truncheons. Katsyaryna was also forced to kneel and listen to the screams of other victims. 
Katsyaryna was placed in a four-person cell with 20 other women, where they slept on the floor. They were not provided with any water or food for the duration of their detention, and were denied access to doctors. Multiple women told Katsyaryna that they had been threatened with rape by police officers.  
Katsyaryna was not told until around 22 hours after her arrest that she was accused of participating in an unauthorised rally. Before she was released early yesterday morning (12 August), she was told by police officers: "We have all your data. If we see you here again, we'll kill you." 
Her belongings, including her passport and apartment keys, were not returned to her upon release. 
According to evidence gathered by Viasna human rights group, in some police stations detainees were forced to lie face down on the floor for several hours or stand against the walls of corridors or courtyards, being beaten at the slightest movement. This is confirmed by numerous testimonies and video footage that has been smuggled outside. 
Journalists arrested 
Nikita Telizhenko, a journalist with the Russian news website Znak.com, was also arrested on Monday evening (10 August).  He recalled in his article: "In the police bus, people continued to be beaten – for having tattoos, or for having long hair."
According to Nikita, he had spent the next 16 hours in the Maskouski District Internal Affairs Office, where he said, "the police forced the detainees to pray, read the Lord's Prayer. Those who refused were beaten in all sort of ways. Sitting in the station's auditorium, we heard people being beaten on the floors below and above us".
Maksim Solopov, a Russian national working for the Latvian news website Meduza, was forcibly disappeared for 40 hours after being arrested on Sunday evening (9 August). He was released – visibly bruised – only after public outcry and intervention by the Russian Embassy. 
He said: "People spent a lot of time on their knees, or on the floor spreading their legs. It was scary. I'm a person who has seen quite a lot of things, but it was scary."
Detentions amounting to enforced disappearance 
The whereabouts of hundreds of detainees remains unknown, and the detentions of some may amount to enforced disappearance. Many have been detained since Sunday (9 August). According to the Belarusian Ministry of the Interior, over the first four days of protest, 6,700 people were detained. 
Relatives of scores of detainees and their lawyers have made unsuccessful attempts to find their whereabouts, calling police stations and warning the courts that they cannot try detainees in the absence of a legal defender. 
Marie Struthers said: 
"We call on the authorities of Belarus to immediately stop the torture and other ill-treatment of detainees and release every person arbitrarily arrested. Independent monitors should be granted an immediate, full and unimpeded access all detention facilities. All those involved or complicit in human rights violations must be brought to justice." 
Background 
At least two deaths have been confirmed since the protests began over the weekend. The first protester died on 11 August when police fired stun grenades and tear gas into a crowd in Minsk. A 25-year-old man died in custody in Brest on 12 August, on the same day when police in the city used live ammunition against protesters.  
Another death was reported on 9 August, corroborated by video footage of a protester being run over by a police vehicle in Minsk and lying motionless on the ground after the vehicle drives away. The fate and whereabouts of the victim, or his body, remain unknown.