Beheading of journalist James Foley a war crime - killer must face justice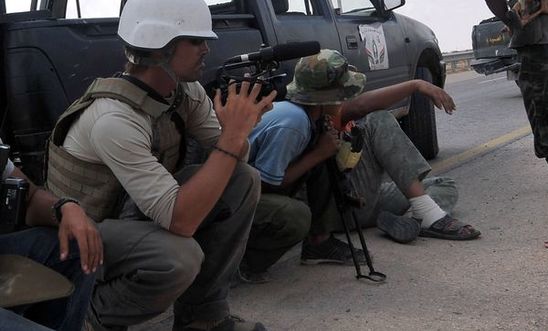 James Foley © AFP/Getty
The execution-style killing by the Islamic State (IS) armed group of a US reporter who went missing in Syria constitutes a war crime and highlights the urgent need for all states with influence in the region to ensure other missing journalists are safely released, Amnesty International said today.  
A video published online by the Islamic State (formerly known as the Islamic State in Iraq and al-Sham, ISIS) purports to show freelance reporter James Foley being beheaded, apparently in retaliation for US airstrikes against the IS in northern Iraq.
Said Boumedouha, Deputy Director of Amnesty International's Middle East and North Africa Programme, said:
"This shocking video, if genuine, is devastating for the loved ones of James Foley and chilling for the family, friends and colleagues of those journalists who are still missing in Syria and northern Iraq, feared captured by IS militants.
"It is a war crime and both those who carried out the killing and those who ordered it must face justice.
"It is imperative that all warring countries and others with interests in the region use all diplomatic means possible to ensure that no more journalists – or others carrying out their legitimate work in the area – are killed for doing their job.
"The implication made in the video that journalists are being targeted in revenge for the US government's involvement in Iraq is deeply alarming and increases fears that other hostages may be at heightened risk.
"Journalists, like all civilians, are bystanders in armed conflict and they must be protected from harm rather than singled out for brutal killings."
In the video, titled 'A Message to America', a man identified as US journalist James Foley says he faces death due to the US government airstrikes on IS targets in Iraq.
A masked militant identifying himself as an IS member says the US has been "at the forefront of aggression towards the Islamic State", before apparently beheading Foley.
The militants also claim to be holding another US journalist, Steven Sotloff, and state that his life depends on US President Barack Obama's next move.James Foley, 39, was abducted in Taftanaz in Idlib province, north-western Syria, on 22 November 2012. He had entered Syria many times in the months before his abduction to report on the conflict.
His reports were published in various outlets, including the US online news site Global Post and Agence France-Presse (AFP).
According to eyewitness accounts relayed to his family, James Foley was travelling in a car on his way to the Turkish border to leave Syria when he was stopped by unknown armed men in an unmarked car.
On 21 January 2013, AFP said it delivered a letter to Syria's Information Minister, Omran al-Zohabi, seeking assistance in finding James Foley. AFP said that the Minister promised to do all that was possible but that "conditions are difficult" in the region where he went missing.
Foreign nationals, including journalists, staff of international organisations and religious figures, are among a wide range of individuals targeted by IS for abduction and arbitrary detention.
Amnesty is concerned for the safety of prominent Syrian human rights lawyer Abdullah al-Khalil, a long-term contact of the organisation, who is believed to be held by IS after apparently being abducted outside his office in the north-eastern city of al-Raqqa in May 2013.
IS forces have also targeted local people suspected of organising protests and opposition to their rule, including community activists and members of local councils set up to provide services to residents following the withdrawal of Syrian government forces.
People suspected of committing ordinary crimes, such as theft or murder, and others accused of committing religiously prohibited acts, such as zina (sex out of wedlock) and alcohol consumption, have likewise been targeted by the group.
The IS has committed gross human rights abuses amounting to war crimes and possibly crimes against humanity in Sinjar, Mosul and other areas in northwestern Iraq since its advance there in June.