Ballet inspired by Albert Woodfox's 43 years in solitary confinement to stage in London this weekend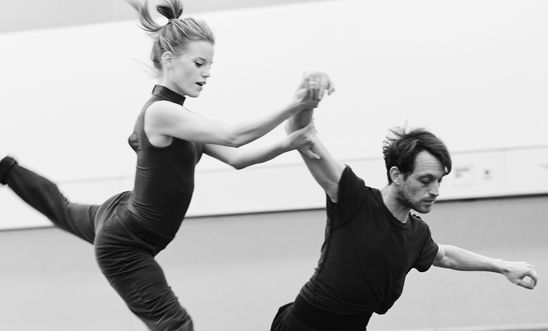 Rambert's Hannah Rudd and Luke Ahmet in rehearsals © Christine Kreiselmaier
'What's really impressive about Sliver of Sky, is that it takes a bleak and unpromising subject matter and transforms it into something poetic' - Kate Allen 
An innovative new ballet production inspired by the US prisoner Albert Woodfox's case is taking place in London on Sunday (24 April).
"Sliver of Sky", which takes its name from a remark of Woodfox's that he could see only a sliver of sky from his solitary confinement cell in Louisiana, brings together dancers from - among others - The Royal Ballet, English National Ballet and the Rambert dance company.
The production is choreographed by former Royal Ballet dancer Ludovic Ondiviela and features Royal Ballet Principal Lauren Cuthbertson, as well as Matthew Ball and Paul Kay (The Royal Ballet), Begoña Cao, James Forbat and Francisco Bosch (English National Ballet), Hannah Rudd and Luke Ahmet (Rambert), and Kesi Rose Olley Dorey and James Loffler.    
Sliver of Sky, which is to be performed at the Lilian Baylis Studio, Sadler's Wells, in east London, is presented in association with Amnesty International UK. 
Albert Woodfox was
released
from prison in the US state of Louisiana in February after having spent 43 years in solitary confinement (
www.amnesty.org.uk/press-releases/albert-woodfox-released-after-43-crue…
). Woodfox was jailed in 1972 for the murder of a prison guard after a deeply flawed trial. He was held in solitary confinement in a cell just two metres by three metres. He always maintained his innocence and his conviction was overturned three times.
Ludovic Ondiviela said:
"Reading about the experience of solitary confinement has led me to explore the emotional and psychological journey of the detainees and their families. Human beings are essentially social beings and isolation and extreme loneliness can drive people to madness.  How does someone find hope when locked up for 23 hours a day in a 6ft by 9ft cell, when the only view of the outside is through a tiny window which offers a sliver of sky?

 

"I would like to thank all of the dancers for so generously giving their time to work on this project and Kevin O'Hare, Director of The Royal Ballet, Tamara Rojo, Artistic Director of English National Ballet and Mark Baldwin, Artistic Director of Rambert for allowing their respective dancers to join us in addition to their busy company schedules.  My thanks also go to Guy Hoare for the lighting design and Yohei Sasaki for the sound design."
Lauren Cuthbertson said:
 

"I am really looking forward to working with Ludovic. He is inspiring to create work with and it feels like a true collaboration."
Amnesty International UK Director Kate Allen said: 
"There's no doubt that placing someone in solitary confinement for decades is a form of torture, and Albert Woodfox and the other Angola 3 inmates suffered abysmally during those long years behind bars in Louisiana.

 

"What's really impressive about Sliver of Sky, is that it takes a bleak and unpromising subject matter and transforms it into something poetic, haunting and in the end genuinely uplifting.

 

"This is a fitting tribute to the incredible endurance of Albert Woodfox, and also a chilling reminder of what damage countries continue to do when they place human beings in conditions of extreme sensory deprivation." 
Sliver of Sky will be performed at the Lilian Baylis Studio, Sadler's Wells on Sunday 24 April at 6pm. Tickets cost £75 and include admission to a post-show reception with members of the artistic team and representatives of Amnesty International UK.  Sliver of Sky is produced by Inspiration in Motion, a charity promoting dance and related performance arts, focusing on support for new works, making performances accessible to wider audiences and supporting education and training. An allocation of free tickets is available to students on application. 
Ludovic Ondiviela 
Ludovic Ondiviela was a dancer with The Royal Ballet where his choreography frequently featured in draft works. He left the Company to concentrate on his career as a choreographer and his creations include "Dopamine" for Ballet Black, "Berlin" and "Adagietto" for Men in Motion, "La Ronde" directed by Jack Thorpe, "4 times 4" for the Gandini Company (as part of the London Mime Festival).  In 2014 he created and directed his first full length ballet, "Cassandra", for The Royal Ballet. In 2015 he took part in the choreographic institute with Northern Ballet and created "Lost" for Ballet Ireland. His current projects include a new production of "Giselle" for Ballet Ireland and a collaboration with the house and techno DJ Seth Troxler for his new album. 
Tickets can be obtained from
Sadler's Wells ticket office
 (a transaction fee applies: £2.50 for telephone bookings, £1.75 for online and concessionary bookings; no charge in person at the ticket office).