Afghanistan: Women facing mounting violence - new report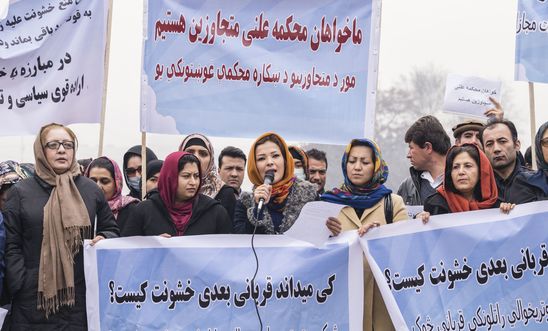 Demo in Kabul against sexual harressment © Amnesty International
Women in the public eye who stand up for human rights in Afghanistan are facing mounting violence - including threats, sexual assault and assassinations - and are being let down by their own government, Amnesty International said in a new report launched in Kabul today.
The report documents how champions for the rights of women and girls, including doctors, teachers, lawyers, police and journalists as well as activists have been targeted not just by the Taliban but by warlords and government officials as well. Laws meant to support them are poorly implemented, if at all, while the international community is doing far too little to help them.
The women 'Human Rights Defenders' have suffered car bombings, grenade attacks on homes, killing of family members and targeted assassinations. Many continue their work despite suffering multiple attacks, in the full knowledge that no action will be taken against the perpetrators.
Salil Shetty, Amnesty International's Secretary General, in Kabul to launch the report, said:
"With the troop withdrawal nearly complete, too many in the international community seem happy to sweep Afghanistan under the carpet. We cannot simply abandon this country and those who put their lives on the line for human rights, including women's rights.

"Afghanistan is facing an uncertain future, and is at arguably the most critical moment in its recent history.

"The international community must step up with continued engagement and the Afghan government cannot continue to ignore its human rights obligations."
While the Taliban are responsible for the majority of attacks against women government officials or powerful local commanders with the authorities' backing are increasingly implicated in violence and threats against women.
Based on interviews with more than 50 women and their family members across the country, Amnesty International found a consistent pattern of the authorities ignoring or refusing to take seriously threats against women. Few investigations were carried out, while prosecutions and convictions were even rarer. In many cases, women who reported violence or attacks were put at further risk, facing stigmatisation or threats simply for speaking out.
No woman in public life is safe – those facing threats and violence range from rights activists, politicians, lawyers, journalists, teachers. Even women in the police force are under threat, where sexual harassment and bullying is rife and almost always goes unpunished.
In eastern Laghman province, Dr Shah Bibi is the director of the Department of Women's Affairs, and continues her work to strengthen women's rights despite multiple death threats having forced her to move to a different province. Dr Bibi's two predecessors – Najia Sediqi and Hanifa Safi – were killed within six months of each other in 2012, by gunmen in broad daylight and in a car bombing respectively. In a familiar story, relatives told Amnesty how regular death threats had been met with no response by authorities, despite the women's repeated pleas for protection. No one has been held responsible for their killings.
Dr Shah Bibi said:
"Every day when I leave home I think that I will not return alive and my children are as scared as I am about a possible Taliban attack against me."
 
Despite the existence of a legal framework to protect women in Afghanistan – much of it thanks to tireless campaigning by women's rights activists themselves – laws are often badly enforced and remain mere paper promises.
The landmark Elimination of Violence against Women (EVAW) Law, passed in 2009, remains unevenly enforced and has only led to a limited number of convictions. Amnesty's investigation found that a lack of political will on the part of Afghan authorities means that government bodies and officials charged with protecting women are under-resourced and lack the support to carry out their work.
Added to this is a common acceptance of violence against women and girls as a "normal" part of life, and limits to their ability to participate freely in public life.
Amnesty made a number of calls in the report. Protection, especially for those in rural areas, is essential; there must be no discrimination in the level of protection; there must be prosecutions. The culture of harassment in public institutions must be addressed, and the authorities must challenge attitudes which lead to abuses.
While international governments have poured hundreds of millions of dollars into projects supporting women's rights since 2001, the approach has not gone far enough and investment is now drying up. Projects have too often focused on short-term gains, and been implemented without consulting women's activists themselves.
With the international troop withdrawal near completion, even these fragile gains are under threat. A recent programme launched by the EU which the UK is part of will, once operational, offer emergency protection and ongoing monitoring for women human rights defenders in Afghanistan. However, it remains to be seen how successfully the protection programme will be implemented.