Activists to join 'sing for Nazanin' event tonight at Iranian Embassy in London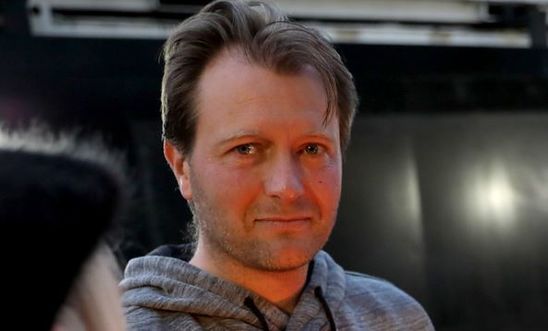 Richard Ratcliffe's two-week vigil at the embassy has attracted wide interest © Marie-Anne Ventoura
Amnesty supporters will join Richard Ratcliffe for singing event, as his hunger strike approaches two-week mark
Choral singers to lead event, with songs to include I Wish I Knew How It Would Feel To Be Free and You'll Never Walk Alone 
Amnesty International campaigners will be joining Richard Ratcliffe in a "sing for Nazanin" event outside the Iranian Embassy in London this evening (6.45-8.00pm), as his hunger strike on behalf of his jailed wife Nazanin Zaghari-Ratcliffe approaches the two-week mark. 
Since Saturday 15 June, Mr Ratcliffe has been staging a constant presence outside the embassy in protest at the ongoing detention of his wife, a British charity worker who is unfairly jailed in Iran and is herself on hunger strike.
Mr Ratcliffe's high-profile embassy protest has gained widespread support, including from numerous Westminster politicians, while Iranian officials at the embassy have criticised the demonstration and apparently attempted to interfere with it - including by erecting a large steel barrier in front of the embassy. 
From 6.45 this evening, choral singers will lead the musical event, which will see, among others, moving renditions of The Beatles' Here Comes the Sun, Bob Marley's Redemption Song, Nina Simone's I Wish I Knew How It Would Feel To Be Free, and Rodgers and Hammerstein's You'll Never Walk Alone.  
Family members and numerous well-wishers will join in the singing, candles will be lit and various "Free Nazanin" placards held aloft.
The husband-and-wife hunger strike began just days after the fifth birthday of the couple's daughter Gabriella, who has not been able to return to the UK since her mother's arrest in April 2016. Earlier this year, the Foreign Secretary Jeremy Hunt announced the UK had invoked "diplomatic protection" status for Zaghari-Ratcliffe, meaning her ongoing detention had become the basis of a formal dispute between the two countries.
  
Kate Allen, Amnesty International UK's Director, who has visited Richard Ratcliffe at the embassy, has described the situation as "heart-breaking".  
Grossly unfair trial and ongoing health concerns
Nazanin Zaghari-Ratcliffe, 40, a British-Iranian dual-national charity worker, was arrested at Tehran's Imam Khomeini Airport on 3 April 2016 prior to boarding a plane back to the UK after a regular family visit to the country with her infant daughter Gabriella. After being detained in solitary confinement without access to a lawyer, Zaghari-Ratcliffe was sentenced to five years in prison in September 2016 after being convicted of "membership of an illegal group" in a grossly unfair trial by a Revolutionary Court in Tehran.
Zaghari-Ratcliffe is presently serving a five-year jail sentence in Tehran's notorious Evin Prison. Since being jailed, she has suffered a serious decline in her physical and mental health, something her husband has repeatedly drawn attention to during a high-profile campaign on his wife's behalf. Her requests for periods of temporary release - for which she is eligible - have been met on only one occasion (last August), followed three days later by a return to jail. Amnesty described her return to jail on 26 August as a "crushing disappointment". She is suffering from numerous health problems - including severe arm, neck and back pain - and there have been serious concerns over her mental health.
Amnesty has designated Zaghari-Ratcliffe a prisoner of conscience targeted solely for the peaceful exercise of her rights to freedom of expression and association. Amnesty has repeatedly called on the Iranian authorities to release her immediately and unconditionally. In December, Zaghari-Ratcliffe completed her 1,000th day in detention, and three days prior to that she turned 40 in jail.