Podcast: Khadija Ismayilova, blackmailed and imprisoned for investigating corruption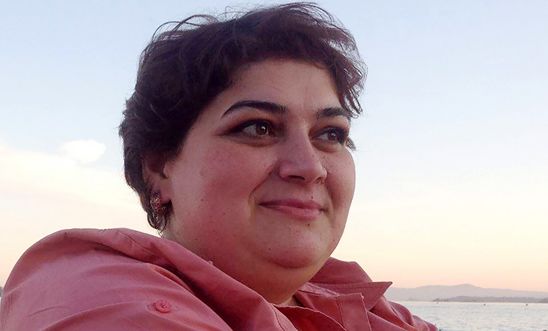 Khadija Ismayilova
A journalist suspected she was being watched, but she didn't expect to be secretly filmed in her bedroom and blackmailed with the tapes - by her government.
Khadija Ismayilova was punished in a uniquely cruel and humiliating way after she investigated corruption at the highest levels of government in Azerbaijan.
Listen to Khadija's story, in her own words
Khadija is banned from leaving Azerbaijan but was able to tell us her story over Skype.
Uncovering state corruption
When Khadija Ismayilova started out as a journalist, she was reporting on social news and current affairs.
In 2005, another journalist, Elmar Huseynov, was murdered on the front steps of his apartment block. He was shot in the mouth five times. He had been investigating corruption in the ruling family of Azerbaijan - the Aliyevs.
As Khadija says, the message was clear.
'The very fact that Elmar Huseynov was shot in his mouth was saying that it was to silence him. That was quite descriptive. And there was a silence: nobody was writing about the [Aliyev] family for many years. Elmar Huseynov was the bravest.'
Khadija
Khadija says that when she saw photos of Huseynov's son kissing his dead father, she decided not to have a family of her own, or get married - she didn't want others to suffer because of her work.
Rather than deterring Khadija, the murder of her peer spurred her to follow his lead.
In 2009, Khadija worked with The Washington Post newspaper investigating property investments by the children of the president of Azerbaijan. The next year she published her own investigation into corruption fueling the wealth of the Aliyev family, the president's family. Khadija got threatening phone calls and was criticised on TV and in state-owned newspapers, but she continued regardless.
Blackmailed in the most personal way
Khadija suspected that her investigations had led to her being spied on, and thought she may have been tapped. But it was far worse than that.
In March 2012, after she had reported on corruption in the government, Khadija was sent intimate pictures of herself and her partner taken in their home without their knowledge alongside a note warning that she would be 'shamed' if she continued her investigative work. People had apparently broken into her flat and rigged cameras in order to capture images to use as blackmail.
'The fact that those behind this appalling campaign were able to place a camera inside Khadija Ismayilova's home, then attempted to lay the blame with an opposition party, points very much to official involvement. This vicious attack has been clearly been intended to do maximum damage to her reputation and puts her at risk of violence'
John Dalhuisen, Amnesty Deputy Director for Europe and Central Asia
When Khadija refused to stop her investigations, instead reporting on the attempt to blackmail her, a video of intimate scenes between herself and her boyfriend was sent to various newspapers.
'I didn't do anything that was shameful. I'm a free woman, an adult, and he wasn't married… That's considered wrong in Azerbaijan, being in a relationship without being married.'
Khadija
Khadija was threatened with death - by her own brother.
'I had tough conversations with my brother, who actually took his knife and came to kill me – because that's what tradition requires him to do.'
Khadija
Imprisoned for her investigations
Khadija continued investigating the family wealth of the Aliyev family, and covering the story on her radio show on Radio Free Europe.
'It was the most outspoken radio. It was critical, and it was popular.'
Khadija
In December 2014, Khadija was arrested on trumped-up charges of tax evasion, embezzlement and 'illegal business'. The Radio Free Europe offices were searched by security forces.
In September 2015, she was sentenced to seven years and a half years in prison. Khadija was a prisoner of conscience, punished for her journalism and for using her right to freedom of expression.
Khadija continued to write from inside prison.
Freed from prison, but not from Azerbaijan
'If they throw stones at you, gather them, collect them, and build a house.'
Khadija
Khadija was freed in May 2016, after three and a half years in prison - for committing no crime - after a huge international campaign for her release. The rest of her sentence was suspended. We are calling on the government of Azerbaijan to quash the charges altogether.
Khadija is still banned from leaving Azerbaijan, so we spoke to her via Skype for our podcast. She continues to work as a reporter for Radio Free Europe.