Journalist Khadija freed in Azerbaijan, after being blackmailed and unjustly imprisoned by her government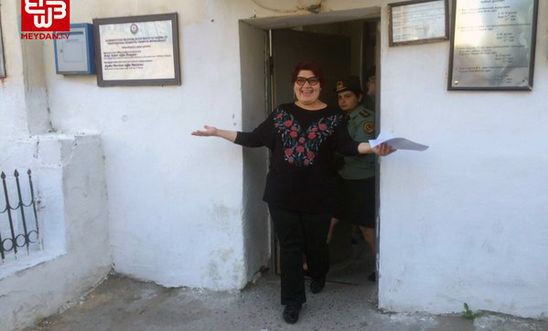 Khadija Ismayilova leaves prison © Meydan TV
After a year and a half behind bars for her investigative journalism, Khadija Ismayilova was released on bail when Azerbaijan's Supreme Court ordered her release today.
Khadija was arrested in December 2014 and had been serving a seven-and-a-half year prison sentence on spurious charges of tax evasion and embezzlement, after her investigative journalism had exposed corruption at the highest levels of government in Azerbaijan.
THANK YOU, GUYS! So great to be back with you!

— Khadija Ismayilova (@Khadija_Ismayil) May 26, 2016
Khadija has been released on bail, her sentence reduced to three-and-a-half years on probation. We are calling on Azerbaijan to overturn the conviction relating to her 2014 arrest and ensuing imprisonment altogether – she has committed no crime. Khadija was simply doing her job as an investigative journalist. While in jail, she was a prisoner of conscience. Now her conviction must be overturned.
It's incredible news that Khadija can walk free, and that is in part thanks to support from all over the world. More than 20,000 people in the UK emailed the Azerbaijani government in the past month, calling for Khadija's release. There are six other prisoners of conscience in Azerbaijan, and we'll continue to call on authorities there to release them immediately.
The back story: imprisoned for investigative journalism
'They thought this would destroy me, but they have destroyed themselves. Now the world will know how independent journalists are treated in Azerbaijan.'
Khadija, March 2012
Khadija Ismayilova is not afraid to speak her mind. It is her fearless reporting on corruption in government and investigating fraud linked with the president's family, and her determination to criticise her government, that led to Khadija's imprisonment.
She was merely doing her job as an investigative journalist. But free speech is a notoriously scarce thing in Azerbaijan right now.
Corruption investigations led to imprisonment
Khadija investigated shady business dealings involving the Azerbaijani President Ilham Aliyev's extended family. She knew she would be punished for her investigations.
'If/when I get arrested, I want you to make sure (people) understand the reasons. Anticorruption investigations are the reason of my arrest. The government is not comfortable with what I am doing. I am about to finish three investigations. I will make sure to finish them before anything happens.'
Khadija, February 2014
Khadija was arrested on 5 December 2014 for charges of tax evasion, embezzlement and 'illegal business'. The offices of Free Radio Europe / Radio Liberty where she worked were searched by security forces later that month, with the prosecutor's office taking documents and equipment away with them, without explanation.
While investigating corruption, Khadija experienced government harassment in the past – including being banned from travelling and facing criminal charges of libel and 'incitement to suicide'. The charges were later dropped – and the person who had allegedly been 'incited' to kill himself explicitly denied that charge against Khadija.
But the trumped-up charges against her are no joke: on 1 September 2015, Khadija was sentenced to seven and a half years in prison after being found guilty of embezzlement, tax evasion and business crimes.
Khadija's trial was supposed to be open but observers were turned away from the courtroom, as Azerbaijan's courts tried to keep her case away from witnesses and rights observers.
Cameras placed in Khadija's home in 'shaming' smear campaign
Her government has gone to great lengths to punish Khadija over the years. She has been the victim of campaigns to shame her in state-owned media. Videos of her made in her own home without her knowledge were released by unknown individuals in an attempt to shame her into stopping her journalistic investigations.
In March 2012, after she had reported on corruption in the government, Khadija was sent intimate pictures of herself and her partner taken in their home without their knowledge alongside a note warning that she would be 'shamed' if she continued her investigative work. People had apparently broken into her flat and rigged cameras in order to capture images to use as blackmail.
When Khadija refused to stop her investigations, instead reporting on this attempt to blackmail her, a video that captured an incredibly private moment between her and her partner appeared online, on a fake mirror website of Azerbaijan's main opposition party.
'The fact that those behind this appalling campaign were able to place a camera inside Khadija Ismayilova's home, then attempted to lay the blame with an opposition party, points very much to official involvement. This vicious attack has been clearly been intended to do maximum damage to her reputation and puts her at risk of violence'
John Dalhuisen, Amnesty Deputy Director for Europe and Central Asia, 2012
At the time, government-controlled papers ran smear stories against Khadija's family, claiming that Khadija and her sister had appeared in pornographic films, blaming her mother for her daughter's 'shameless lifestyle', and publishing a story entitled 'Khadija's Armenian mother should die' (her mother is not an ethnic Armenian; this was an attempt to build on widespread prejudices).
Help free another prisoner