Palestinian families under attack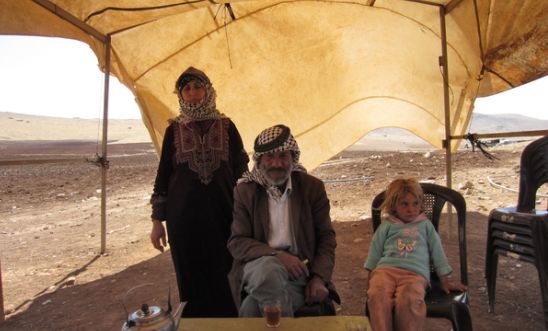 Dozens of Palestinian families living in the West Bank have had their homes repeatedly destroyed, their movements restricted and their access to water denied by the Israeli army.
Around 150,000 Palestinians live in Area C in the Jordan Valley. Living in tents and shacks, the local shepherds make a living from the red, rocky earth.
But according to the Israeli army, the simple huts and animal pens are illegal because they do not conform to Israeli plans for the area, which is under complete military jurisdiction.
Abdul's story
According to the UN Office for Humanitarian Affairs, 565 structures were demolished in Area C in 2013. More than 800 people, like Abdul and his family, lost their homes.
'They always say we have to have permits, but what do they want me to get permits for? A tent? The tent is open to the wind and could be blown away. Allow me to get a permit for a proper building and I will pay all fees and prove ownership of the land.'
Abdul Rahim, shepherd and Hadidiya resident
Palestinian residents are not even allowed to use the roads in the immediate area as these are exclusively for the Israelis. Meanwhile, Israeli settlements nearby Hadidiya boast guest houses, extensive agricultural lands and red-roofed villas.
Bulldozing international law
Local Palestinians have no input into development plans for Area C, which benefit Jewish-only settlements. However the Israeli government continues to issue construction tenders for thousands of new housing units on this land.
Under international law, the Israeli settlements in the Occupied Palestinian Territories are illegal and the demolition of Palestinian property is prohibited – unless absolutely necessary for military operations. But in small communities like Hadidiya the Israeli authorities are determined to bulldoze through their homes, and international law.
Amnesty supporters petition Israeli authorities
More than a thousand of you joined our call for the demolitions to stop, by emailing the office of Israeli Prime Minister Benjamin Netanyahu in spring 2014 – thank you. We'll continue to monitor the situation and hold authorities responsible for bulldozing human rights and homes in the West Bank to account.
Join our Urgent Action Network and help protect people at risk