We are politically and financially independent of any government, political ideology, economic interest or religion.
 
Our governance, programmes and policies are non-partisan. They are independent of specific governments, political parties and the business sector. 
To ensure our independence, we do not seek or accept money from governments or political parties for our work in documenting and campaigning against human rights abuses, only for our human rights education work. In no way do any monies received influence or affect our ability to campaign.
The vast majority of our funding comes from the contributions of individuals through our membership and our fundraising activities.
To safeguard our independence, all contributions are subject to guidelines laid down by the Global Assembly.
Want to support our work? Join us or make a donation now.
Where your money goes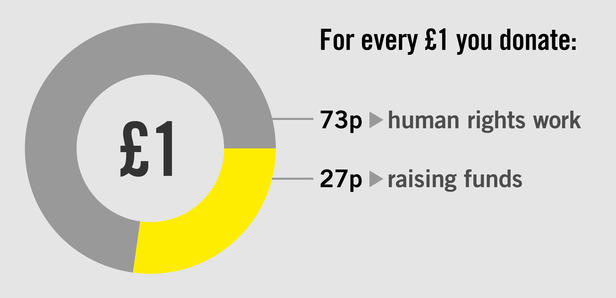 In donating and raising funds for Amnesty International UK, you are acting in defence of human rights. Every £1 you give to Amnesty International UK allows us to protect our human rights, here in the UK and around the world. In 2016:
73p was spent directly on our work defending human rights
Investigating and exposing abuses, campaigning to protect human rights, mobilising people to take action in defence of human rights, and educating people and communities about their rights and how to claim them – this is the work that your donation enables, helping to transform societies and create a safe, more just world in which everyone's human rights are respected.
27p was used to raise funds for human rights and to meet essential running costs
Fundraising is crucial to ensure Amnesty International UK can fulfil our purpose of protecting our human rights and protecting individuals whose rights are being abused - wherever justice, fairness, freedom and truth are denied. When you donate to Amnesty International UK, you are acting in defence of human rights.
Our Supporter Promise
Without the generosity of our supporters, important human rights work could not happen. We value and respect our supporters as partners in the defence of human rights.
Find out more about our Supporter Promise
Quarterly report to members
Four times a year we produce a quarterly finance report for all our members that sets out our income and expenditure so far and our forecast for the rest of the year. These reports are available in our member documents area.
To access these reports you need to be a member and you need to register with the website with the same email address that is associated with your membership. You can register with the website at anytime by clicking on 'Register' in the top right hand corner of this page.
If you have any problems accessing these reports please contact our Supporter Care Team who will be happy to help.
Accessing financial statements
Our financial statements dating back to 2012 are available to download below.
Downloads