Next Meeting - Monday 14th January 2019, 7.30pm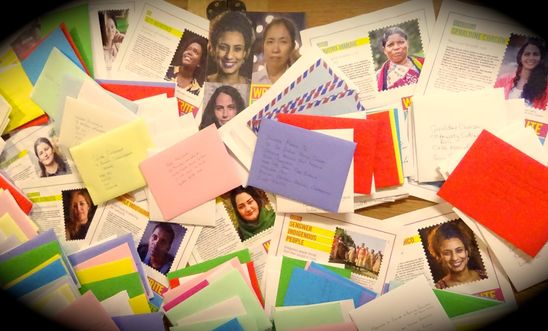 The 142 cards of solidarity we wrote to human rights defenders across the globe for Write for Rights 2018
Write for Rights success!
Thank you to the dedicated supporters who generously donated their time to join Ealing Amnesty Group for our Write for Rights 2018 campaign.  We are delighted to announce that we sent off a total of 142 cards of solidarity to human rights defenders around the globe.
If you joined us, and took part in the Postcard Project for Holocaust Memorial Day 2019, we now have postcards from Renee Bornstein, Holocaust survivor, and from Sokphal Din, survivor of the Genocide in Cambodia, in response to the project. If you'd like a copy - please join our next meeting in January. 
Next Meeting
The next Ealing Amnesty Group Meeting is on Monday 14th January, 7:30pm at Northfields Community Centre, 71a Northcroft Road, Ealing W13 9SS.  Look for the blue door on the right and ring the bell for Room 3.
We will evaluate our recent Write for Rights campaign and the Christmas fundraiser. We will be distributing postcards  from Renee Bornstein and Sokphal Din, in response to the Postcard Project for HMD 2019.  And as always, we will continue to write letters to international authorities, demanding respect for human rights world wide. 
Feel free to contact us for more information or just drop in.  All are welcome!
View latest posts