Escaping the gallows in Nigeria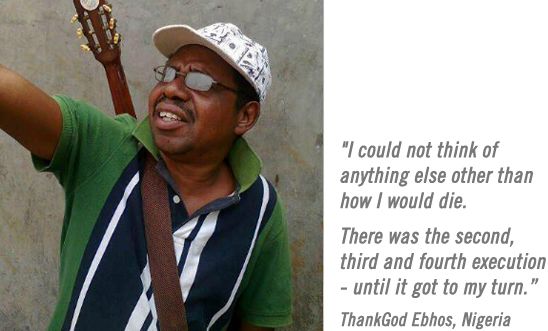 For 19 years, ThankGod Ebhos barely had a full night's sleep. Every night as he lay on a blanket in his cell in Benin Prison, southern Nigeria, he would dream that a prison guard was knocking at his cell door. The guard would come in and walk ThankGod, barely awake, to the room where an official would place the rope around ThankGod's neck, ready for execution.
In June 2013, the nightmare came true. ThankGod awoke at the sound of the door to the prison's execution room opening. He could smell the oil used to lubricate the gallows. Prison staff came into his cell and, without saying a word, forced him and four other men out of their cells and into the execution room where the gallows were waiting for them.
Hanged in the night
"We knew we were going to die, they did not have to tell us. When we got to the gallows they locked the door behind us. The room was ready – the noose prepared and the bag of sand down. The Sheriff, hangman and other prison staff stood on the side, and a priest prayed to God to forgive us for our sins. After the prayer, our execution warrants were read to us."
An official asked ThankGod what was to happen with his belongings; he replied that everything he had was to go to his son, Solomon.
Then ThankGod watched as guards placed ropes around the other four prisoners' necks, one by one, ready for execution. In turn, each man was suspended; each gasped for air before his life was taken.
"The first person was hanged; his face was covered with a black sack. I could not think of anything else other than how I would die. Then there was the second, third and fourth execution until it got to my turn."
ThankGod stood with the noose around his neck, his heart racing. The Sheriff read ThankGod's execution warrant. There was a discrepancy: ThankGod he had been sentenced to death by firing squad, not hanging. It would be illegal to hang him.
Life in the balance
A discussion followed, as the noose remained around ThankGod's neck.
Prison staff phoned their headquarters in Abuja for confirmation that the execution could be carried out regardless of what the warrant said. Some of the prison staff argued that no one taken to the gallows for execution should come out alive.
Eventually, the Sheriff insisted that the execution should not be carried out by hanging. He ordered the door to be opened and ThankGod was taken back to his cell.
"When I got back to my cell, I immediately called Kola Ogunbiyi of Avocats Sans Frontières France in Nigeria. He was surprised to hear my voice and wondered why I had not been executed. He told me he was going to call Amnesty International and draw the world's attention to my case."
Avocats Sans Frontières France in Nigeria later filed a case at the Economic Community of West African States (ECOWAS) Court of Justice in Abuja. In January 2014, the ECOWAS Court granted an injunction that prevented the Nigerian government from executing ThankGod. Six months later, the Court delivered a final judgment and ordered the government to remove ThankGod's name from the list of prisoners on death row.
A few months later, on 28 October last year, the Governor of Kaduna State, Mukhtar Yaro, used his power of 'Prerogative of Mercy' to grant ThankGod's freedom. He was released from prison.
"I was given three minutes to pack my belongings and leave the prison. I thought it was a dream and told God not to let me wake up. Up till now I still wonder if it is a dream because I never thought I could be alive."
Facing execution for robbery, after 19 years in prison
ThankGod Ebhos was sentenced to death in 1995 for an armed robbery that took place in 1988. He admitted responsibility for the crime, and served 19 years in prison, awaiting his execution every day. He describes life on death row as being in a "constant state of horror".
"I never had peace of mind. Whenever I heard a knock on my door I thought they had come to take me for execution. I always had the feeling that any moment I was going to die."
ThankGod never lost hope. While in prison he learned how to read and write and play the guitar and the piano. Now he can do make music outside his prison cell.
ThankGod was lucky. At least 1,588 people are currently languishing on death row in Nigeria – 659 of whom were sentenced to death last year. They are unlikely to be spared on a technicality, as ThankGod was.