Death sentences increased, while executions decreased
55 countries are known to have sentenced at least 2,466 people to death in 2014 – a 28% increase from 2013. This is mainly due to a spike in death sentences in Egypt and Nigeria. By the end of the year, at least 19,094 people worldwide were sentenced to death.
We recorded 607 executions in 22 countries in 2014 - a decrease of 22% compared wtih 2013. 22 countries carried out executions: the same number as last year.
Download the report: Death sentences and executions in 2014 (PDF)
The numbers don't give a full picture
Every year we publish the minimum figures of recorded death sentences and executions that we are able to verify; the real number of people executed is much higher. There are no figures for China, for example, which is believed to execute more people than the rest of the world put together. Other countries like Belarus also execute prisoners in secret, often without informing the detainees' relatives or lawyers.
Meanwhile restrictive state practices and political instability prevented us from fully reporting on the number of people executed in countries such as Eritrea, Malaysia, North Korea and Syria.
The world's worst executioners are unchanged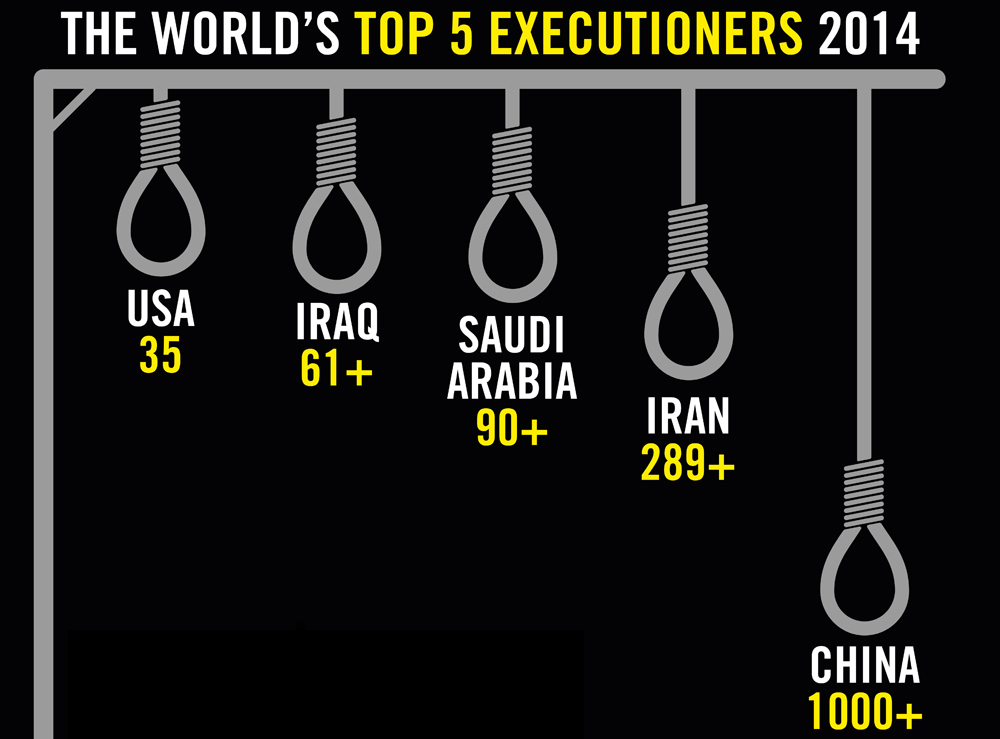 Five states continue to surpass all others in executing prisoners.
1. China: The world's worst execution kills in secret - and with political motives
We stopped publishing estimates for the number of executions in China in 2009, as it is impossible to verify figures while the death penalty system in China remains a state secret.
In 2014, Chinese authorities used the death penalty to punish dissenters in its crackdown during unrest in the Xinjang region. Through its so-called 'strike hard' campaign, the Chinese government executed at least 21 people, with three of them condemned to death in a mass sentencing rally at a stadium in front of thousands of people.
2. Iran: Still executing juvenile offenders, drugs smugglers and opposition activists - in secret
The Iranian government claims it executed 289 people in 2014; reliable sources inform us that the figure is at least 743. Executions were sometimes carried out in secret, with some prisoners' family and lawyers finding out afterwards, and the Iranian government refusing to return their loved one's body.
At least 14 people executed by Iran last year were under 18 at the time their crime was allegedly committed - Iran continues to ignore international laws that outlaw executing juvenile offenders.
The Iranian authorities executed numerous prisoners for 'non serious' crimes - such as drugs offences, 'insulting the prophet', 'enmity against God', and being a member of an armed opposition group. Many trials that resulted in death sentences did not meet international standards for fair trials.
3. Saudi Arabia: Executions for sorcery, witchcraft, adultery and political activism
Half of the executions in Saudi Arabia during 2014 were for 'non-lethal' offenses - including 'witchcraft', 'sorcery', 'adultery', drugs offenses and kidnapping. Indeed many of these do not consitute crimes.
The Saudi Arabian authorities have used the death penalty against those protesting against the state - often with the apaprent aim of preventing dissent. At least 20 people have been executed in relation to protests in the Eastern Province in the last four years.
4. Iraq: Terrorism and security-related executions
The majority of prisoners executed in Iraq in the past decade have been for terrorism-related offences, in most cases after unfair trials.
Fewer people were executed in Iraq in 2014 than in 2013 - but our figures only account for the executions we are able to confirm.
5. USA: Executing despite disabilities and 'botched' lethal injections
The United States was once again the only country in the Americas region to execute last year.
There were a number of cases where prisoners with mental and intellectual disabilties were executed or sentenced to death - breaking international law on use of the death penalty.
A shortage of drugs to deliver lethal injections led to a series of 'botched' executions in the US, with reports of prisoners gasping and writhing for a prolonged period before their death.
The global picture
Our interactive map shows states around the world still actively using the death penalty (red); states that retain the death penalty in their law but don't actually use it (orange); and abolitionist countries - those who don't use the death penalty at all (yellow).