National Conference and AGM 2020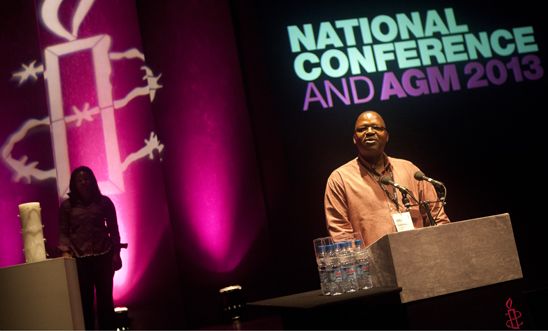 © Katura Jensen
EVENT CANCELLATION 
Dear Amnesty members,
We wanted to let you know as soon as possible, that on Thursday 26 March, the AIUK Section Board made the difficult decision to cancel this year's National Conference & AGM, due to take place on the 20-21 June in Nottingham. The prevailing circumstances of lockdown and social distancing across the UK, together with uncertainty over conditions during the next three months, mean that we are unable to go ahead with the event as planned. 
This is a hard decision, given the importance of the event and the work that has already gone into its planning. However, it is the only responsible decision that we could take, given what is happening around us. The safety people - of our members, staff and general public - should and will always come first.
We know this will be disappointing for many of you, as this is the time to meet fellow members and make important decisions pertaining to the governance of our movement. We are really excited to come back better than ever next time! The Board will review the situation at its scheduled meeting in May. We will consider the options available to us at that time and provide an update to members shortly afterwards.
If you have already registered for the event, you will receive an email shortly explaining the next steps. 
We sincerely apologise for any inconvenience this may cause and look forward to greeting you and coming together as a movement as soon as this is safely possible. 
Please contact our supporter communications team if you need any more information regarding this, agm@amnesty.org.uk
BOARD BALLOT
The ballot for elections to the Section Board has also been postponed. In order to manage costs and to make democratic participation as easy as possible, we try to run Board ballot and AGM processes at the same time. We will therefore work with the Returning Officer to review the situation in May. 
If you have any queries about either the AGM governance or the Board Ballot, please contact our supporter communications team in the first instance, agm@amnesty.org.uk
The Section Board would like to take this opportunity to thank all our members, supporters and friends for their support of human rights and to wish them all the very best in these difficult times. 
BOOK YOUR PLACE 
20 & 21 June 2020
Registration for the National Conference and AGM 2020 is closed due to the cancellation of the event. 
If you have any questions relating to the wider event, please contact our supporter communications team, agm@amnesty.org.uk
REFUNDS
We are issuing full refunds on accommodation for those of you who have already registered. It will take 5-7 banking days for your funds to appear in your account. If you do not receive your refund within 7 days please contact amnesty@blueprintpartners.com.
DONATIONS 
Some of you kindly added a donation when you booked your AGM and National Conference place – thank you so much. Donations to Amnesty International UK Section help fund our work to protect human rights and contribute towards the cost of important events for our democracy such as the AGM and National Conference. Some costs for the now cancelled June 2020 AGM and National Conference have already been incurred and are non-refundable. Your donation could help towards this at a time when some of our fundraising activity has stopped in order to protect the health of our staff, volunteers and the public. Thank you. 
GET INVOLVED
The event has now been cancelled and next steps will be reviewed in May. 
If you have any questions concerning your elected role at this year's AGM, please email your questions to returningofficer@amnesty.org.uk
AGM Decisions