Jabeur Mejri, imprisoned for Facebook posts in Tunisia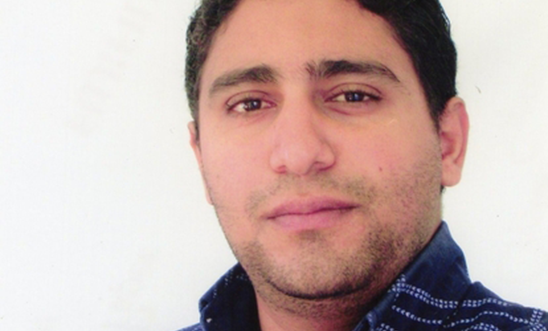 Jabeur Mejri © Private
Jabeur Mejri who had been freed from prison in Tunisia after he received a presidential pardon for posting images on Facebook, has now been sentenced to eight months for 'insulting a public official' and 'violating sacred values' after an argument with a court official.
Freedom of expression in Tunisa
On 17 December 2010, a Tunisian street trader called Mohamed Bouazizi set himself on fire. His death prompted protests that spread across the country, the region, even the world – throughout the winter and historic Spring of 2011.
President el-Abidine Ben Ali fled the country. Finally, people felt they could finally speak freely after years of repression. By the time Jabeur Mejri, aged 29, posted a cartoon of the Prophet Mohamed on his Facebook profile in March 2012, he thought he was living in a new Tunisia.
Sadly, things were not so different.
Jabeur's posts were spotted by two lawyers who deemed them offensive to Islam. Within days Jabeur had been charged with 'undermining public morals' and 'attacking sacred values through actions'. He was ordered to pay a hefty fine and jailed for seven-and-a-half-years.
Seven-and-a-half-years for posting on Facebook
Jabeur's friend, blogger Lina Ben Mhenni believes his heavy sentence was intended to intimidate other Tunisians.
'[The authorities] wanted to announce that in order to live in Tunisian we have to abide by their rules and their beliefs,

I am afraid that we are losing the unique fruits of the revolution: the disappearance of fear and our freedom of speech.'
Lina Ben Mhenni, Jabeur's friend
Losing hope
Last year Jabeur Mejri's sister, Ines, told us how he was coping in prison:
'We see Jabeur every Thursday and take him food and other things. The last time we saw him his words really affected us. He is losing hope, and feels very tired and worried. He requested a pardon before Eid [in August 2013], but nothing has happened since. We're very worried about  him.

'Before he was in a very crowded cell and found it very difficult. He was on the verge of breaking down, so they agreed to change his cell. He's now in a room with about seven or eight people and he's much better.

'But he still has trouble sleeping, because he's thinking too much about what happened to him and about his future. We're continuing to campaign for him and we're grateful for everyone's help in trying to get him a presidential pardon.'
Ines, Jabeur Mejri's sister
Prisoner of conscience
Some have called Jabeur Tunisia's first prisoner of conscience since the uprising.
In an ironic twist, Tunisia's current president was once a human rights activist and even a prisoner of conscience himself. 
However, while he has been pardoned, Jabeur hasn't been cleared. He should never have been charged, let alone convicted and imprisoned, merely for freely expressing his opinions. We are calling on the authorities to set the record straight. His conviction and sentence should be quashed and his name must be cleared once and for all.
His lawyer has told us that Jabeur plans to appeal his latest sentence of eight months behind bars for 'insulting a public official' and 'violating sacred values' after an argument with a court official.