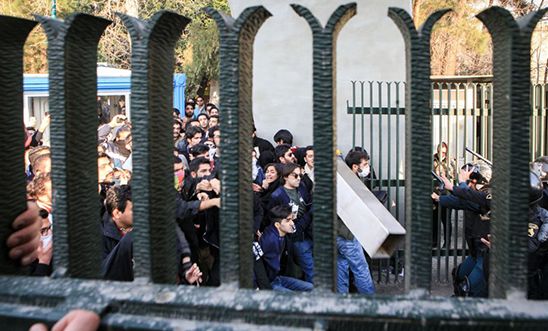 In the days following the biggest anti-government protests in Iran this decade, at least 1,000 detained protesters are now at risk of torture for their actions.
Most of the demonstrations appear to have been peaceful, but in some cases protesters have engaged in stone-throwing, acts of arson and damage to buildings, vehicles and other property.  
The response from the authorities however, has been disproportionate. Video footage and eyewitness testimonies on social media and mainstream media outlets show riot police and other security forces firing ammunition at unarmed protesters, beating them with truncheons and using tear gas and water cannons to disperse crowds.
VIDEO: Some footage in social media showed police presence in cities like Rasht and Qom using water cannon and tear gas to disperse demonstrators https://t.co/JfUyq700DS #IranProtests pic.twitter.com/hE0gp0Vnf8

— Al Arabiya English (@AlArabiya_Eng) December 29, 2017
As a result, more than a thousand people have been arrested and detained in jails notorious for torture, with many denied access to their families and lawyers.
Given the alarming scale of the current wave of arrests, it is highly likely that many of those held are peaceful protesters who have been detained arbitrarily, and now find themselves in prisons where conditions are dire and facing the prospect of torture to extract confessions. 
Death penalty for dissent
This ruthless response is at odds with President Hassan Rouhani's assurance on 30 December that protesters have the right to criticise the government.
Even more worryingly, on 2 January the Head of the Revolutionary Court in Tehran, Mousa Ghanzafar Abadi, warned that the Ministry of Interior had declared the protests illegal and that those who continued to engage in protests would face severe penalties. He threatened that the protest leaders and organisers could be charged with 'enmity against God', which is punishable by the death penalty. 
On the same day, Iran's Supreme Leader, Sayed Ali Khamenei, accused the country's 'enemies' of stirring the protests.
Why are people protesting?
Since 28 December 2017, a wave of demonstrations have spread across the country expressing anger over poverty, high unemployment, corruption and inequality; as well as demands for the release of political prisoners and outright rejection of the ruling political system. This system has been described by some protesters as a 'clerical dictatorship'. 
These protests started in Mashhad (Iran's second largest city) and have spread to about 40 locations across the country. So far, at least 22 people, including two security officers, have been killed.
Iran warned protesters to end "illegal gatherings" as demonstrations against the worsening economy spread on the same day pro-government rallies took place https://t.co/oocFnj7yjh

— New York Times World (@nytimesworld) December 30, 2017
Iran has not seen protests on this scale since those following 2009's disputed presidential election, which saw 100 protesters killed and thousands suffering arbitrary arrest, detention, torture and other ill-treatment.
To make matters worse, the popular social media apps Telegram and Instagram have also been blocked, and state-sanctioned media outlets have published a 'wanted' list of protesters with their faces showing, and calling on members of the public to identify and report them to the authorities. 
Protection from torture
Our position is clear: all detainees should be protected from torture and other ill-treatment.
Those suspected of a recognisable criminal offence should be charged as such, and tried in proceedings which meet international standards for fair trial – or released. Their families should also be immediately informed of their legal status and exact whereabouts.
In addition, the Iranian government must promptly launch an effective and independent investigation into the killings and other reports of excessive or unnecessary force, and bring all those responsible for human rights violations to justice.
Finally, Iran must also bare in mind that they are a state party of the International Covenant on Civil and Political Rights – this means it is their duty to uphold the rights to freedom of peaceful assembly and freedom of expression.