Iran: reports that Nazanin Zaghari-Ratcliffe is 'eligible for early release' welcomed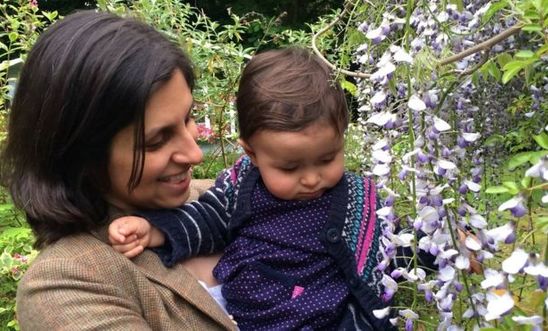 Nazanin Zaghari-Ratcliffe and her daughter Gabriella were detained in Tehran in April 2016 © Free Nazanin Campaign
Commenting on reports that the UK-Iranian charity worker Nazanin Zaghari-Ratcliffe has been listed on an Iranian judicial database as "eligible for early release", Amnesty International UK's Individuals At Risk Campaigner, Kathy Voss, said:
"Being 'eligible' for release when you shouldn't even be in prison in the first place is a bizarre thing to be celebrating, but we have to welcome this as a sign that Nazanin's ordeal may be coming to an end. 

"There have already been many ups and downs in Nazanin's case, so we have to be cautious about any premature celebrations.

"As far as we're concerned, this won't end until Nazanin and Gabriella are actually on a plane and heading back to London."
 
Charity worker accused of being 'spy'
Nazanin Zaghari-Ratcliffe, 38, was arrested at the airport in Tehran in April 2016 as she was about to board a plane back to the UK with her young daughter Gabriella following a family holiday in Iran. After being detained for over five months, initially for 45 days in solitary confinement without access to a lawyer, Zaghari-Ratcliffe was subjected to an unfair trial and sentenced to five years in prison after being convicted of "membership of an illegal group". The charges appear to relate to her employment at Thomson Reuters Foundation, a charity organisation, as well as her past work as an administrative assistant on a BBC Media Action project to train young journalists. 
In poor health
For most of her detention, Zaghari-Ratcliffe has been held in Evin Prison in Tehran, where the quality of food is poor and prisoners are routinely forced to buy extra food from the prison shop to maintain something close to an adequate diet. As with prisoners in other jails in Iran, detainees at Evin are often denied vital medical treatment, apparently as a further layer of punishment. During her incarceration, Zaghari-Ratcliffe has suffered from numerous health problems, including severe arm, neck and back pain, while her husband has raised concerns over his wife's fragile mental state, repeatedly reporting that she was at "breaking point". 
Other dual-nationals
Nazanin Zaghari-Ratcliffe's treatment at the hands of the Iranian authorities appears to be part of a wider pattern of bringing false charges against dual-nationals and other individuals with foreign connections. Prominent past cases include the Iranian-American Washington Post journalist, Jason Rezaian, and the Canadian-Iranian academic Dr Homa Hoodfar. More recently, in October the Iranian-born Swedish resident, Ahmadreza Djalali, was given a death sentence after being subjected to psychological torture, coerced into making confessions and being put through a grossly unfair trial.
Human rights crackdown
Despite claims of "reforms" under the country's "moderate" president, Hassan Rouhani, Iran has long been in the grip of a crackdown covering nearly all aspects of human rights. In particular, human rights activists have been sentenced to lengthy prison terms, sometimes after trials lasting only 45 minutes. Such activists are often labelled "foreign agents" and "traitors" by Iranian state media.