Hundreds dead as catastrophic battle for west Mosul rages on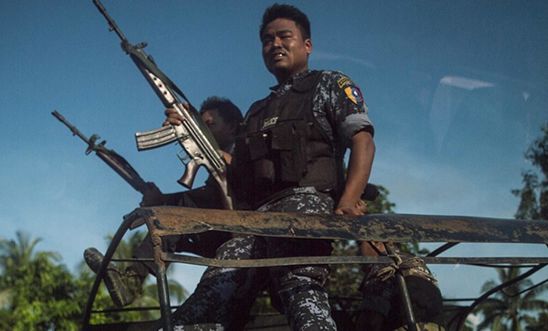 © Amnesty International
'We did not have any options. If you stayed, you would die in your house from the fighting. If you tried to run away, they would catch you and kill you.'
Hasan, west Mosul
The scale of death, injury and suffering of civilians trapped in the battle for west Mosul in Iraq has been horrifying, with both Islamic State (IS) and Iraqi and coalition forces to blame over their military tactics.
We have spent months studying hostilities in west Mosul from January to mid-May of this year. During this time there have been 45 attacks in total, which killed at least 426 civilians and injured more than 100, and shocking reports of the IS armed group using civilians as human shields have emerged. In a further twisted move by IS, people are being forced from neighbouring villages into battle zones in west Mosul, while also being trapped in their homes to prevent them from escaping.
Entire families wiped out
Meanwhile, Iraqi and coalition forces (including British) have failed to take adequate measures to protect people, instead subjecting them to a terrifying barrage of fire from weapons that should not have been used in densely-populated civilian areas. 
Lynn Maalouf, Amnesty International's Middle East Research Director, said:
'The scale and gravity of the loss of civilian lives during the military operation to retake Mosul must immediately be publicly acknowledged at the highest levels of government in Iraq and states that are part of the US-led coalition.

'The horrors that the people of Mosul have witnessed and the disregard for human life by all parties to this conflict must not go unpunished. Entire families have been wiped out, many of whom are still buried under the rubble today. The people of Mosul deserve to know, from their government, that there will be justice and reparation so that the harrowing impact of this operation is duly addressed.'
Doors welded shut and bodies hung on pylons
Since late last year, IS has carried out a systematic campaign of forced displacement in the Mosul area, moving thousands of civilians from neighbouring villages into districts under its control. 'Abu Haidar', a man from the village of Tel Arbeed who was forced to move into west Mosul, told Amnesty: 
'[IS] said you must leave, or you will be killed. We were brought as human shields. They brought us to stand between them and the missiles.'
Meanwhile, to prevent civilians from evacuating to safety, IS trapped people inside their homes by welding their doors shut, rigging booby traps at exits, and summarily killing hundreds - perhaps thousands - of people attempting to escape. Another man, 'Hasan', witnessed how IS hanged the bodies of civilians trying to flee from electricity pylons: 
'We did not have any options. If you stayed, you would die in your house from the fighting. If you tried to run away, they would catch you and kill you, and hang your body from the electricity pylon as a warning. Four of my neighbours were caught trying to escape, and I saw them hanging from the electricity pylon. They were left for days, just hanging there. They would hang between 15 and 50 people from the pylons.'
Appallingly, there have also been cases of US-led coalition and Iraqi forces killing and injuring civilians inadvertently, because they failed to strike their intended military targets. Civilian deaths and injuries appear to have even resulted from an inappropriate choice of weapons (e.g. using weapons that were too powerful), or from a failure to verify who or what the military target actually was.
UK's role in the attacks
The UK Defence Secretary Sir Michael Fallon has recently said that the Royal Air Force has conducted more than 700 airstrikes as part of the Mosul military operation, while the Ministry of Defence has repeatedly claimed that it has 'seen no evidence' of civilian casualties as a result of the attacks.
This claim is, at best, implausible. It's not good enough for the UK government to cover its eyes and ears and pretend this isn't happening. 
We have written to Sir Michael requesting information on how precisely the MoD determines whether its airstrikes in Iraq have resulted in civilian casualties.
An independent commission must also immediately be established, tasked with ensuring that any instances where there is credible evidence that violations of international law took place, effective investigations are carried out, and the findings made public.
Dignity for innocent Iraqi civilians is not too much to ask for. The cycle of catastrophic violence and violations they have suffered must come to an end once and for all. 
Read Amnesty's report, At any cost: The civilian catastrophe in west Mosul, Iraq, in full now