How we work with human rights defenders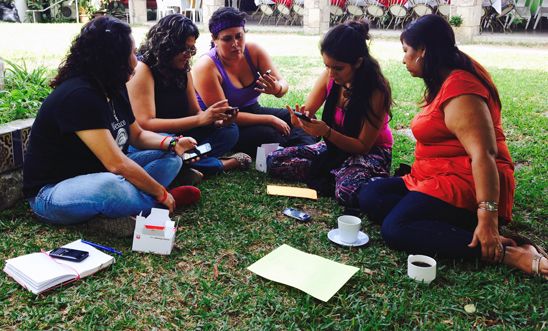 Workshop introducing defenders in Latin America to our Panic Button app © Amnesty International
We can only achieve a world where everyone's human rights are respected through the hard work of human rights defenders, people who tirelessly champion and defend the rights of others.
Without human rights defenders (HRDs), injustices go unchallenged, the most marginalised and vulnerable people in our societies have no say and lose out, people have little protection from abusers of power and governments and businesses can act with impunity.
We believe that supporting the rights of HRDs is one of the most important ways we can ensure human rights for all, which is why we made this a priority issue from Summer 2017.
Running until mid-2020, the BRAVE campaign will see our global movement step up for HRDs across the world. Here's how we're doing it.
Working in partnership with defenders
In nearly every issue we work on, whether researching abuses or campaigning for justice, we work in partnership with human rights defenders.
Defenders' invaluable insight and understanding of the environments in which they work ensures that our research is informed, relevant and timely.
One of our key partners in the UK is the Human Rights Defenders Hub at the University of York, which brings together HRDs from across the world to skill share, research and participate in various degree programmes.
Campaigning for defenders' rights
Challenging powerful people and organisations can be dangerous work, and human rights defenders are frequently targeted because of it. They may face threats, attacks, defamation, criminalisation and other reprisals aimed at reducing their ability to investigate or publicise abuses.
Continuing to work in these conditions can be incredibly challenging, particularly for people working on marginalised and sensitive issues, without support from the communities in which they live and work.
We provide support for and campaign on behalf of individual defenders facing these pressures, making sure that others know about their situation and the threats they face. We advocate for their right to carry out their important and legitimate work free from fear, and put pressure on governments and international bodies to protect defenders, and challenge those who seek to undermine and attack them.
Our campaigns connect people around the world with defenders and their work, and enable supporters to show solidarity with defenders in dangerous situations - which can help with the isolation and hostility experienced by defenders in their day-to-day lives.
We want everyone to realise that the work of human rights defenders is legitimate, valuable, and should be respected and protected.
You can take the latest online action for HRDs from our main human rights defenders campaign page.
Holding states to account
We make sure that states know their responsibilities to human rights defenders.
Under the UN Declaration on human rights defenders, governments must actively protect human rights defenders from harm, and put in place social and legal structures to create environments that are safe and supportive for human rights defenders to carry out their work.
For example, under the declaration, governments should:
Create or uphold laws that protect the right to assembly and association and freedom of expression (if defenders are restricted in terms of who they can meet and what they can say, they will not be able to speak out)
Build systems that allow defenders to report abuses and access appropriate protection measures when their security is at risk.
The reality is that many states are not taking responsibility to protect defenders.
We track where defenders are not being adequately protected, and press states to change their behaviour.
We publish research and submit reports to international monitoring bodies like the UN's Special Rapporteur on human rights defenders and advocate for protection of and support for defenders in international arenas like the United Nations.
Building human rights capacity
We work with defenders to expand their knowledge of legal and practical protections, enabling them to report abuses to international bodies like the UN and to hold their government to account if it's not meeting commitments that it's made to defenders.
We aim to connect human rights defenders with one another, linking them with activists like themselves so they can share experiences, understanding and good practice, and support one another through the challenges of their work.
We're also creating practical tools and resources to protect defenders, including methods and products to help them manage the unique dangers they face. For example, our Panic Button mobile app, launched last year, enables defenders in danger to send quick emergency alerts to a designated support network without their attackers knowing.