Write For Rights 2022 - 5 December Meeting Highlights - Sutton Amnesty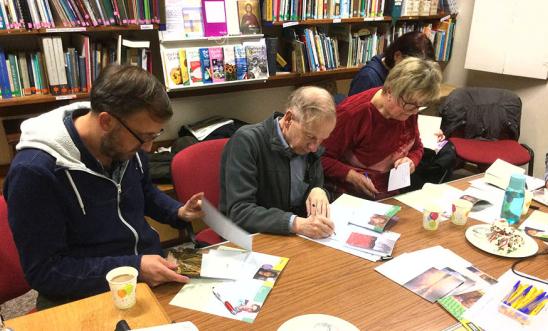 Sutton Amnesty International December 2022 Write For Rights Meeting
This was our first Sutton Group meeting back in the Friends Meeting House since the Covid Pandemic began. Structured on a hybrid basis we had nine attendees in person and two online.
Write for Rights 2022
The meeting's focus, the Write for Rights campaign, is run by Amnesty every December. It involves ten human rights cases adopted by Amnesty - people still wishing to write on these cases can find details here. The approach differs from our normal Amnesty work in that the central aim is to write to the individuals themselves expressing support/solidarity and our good wishes. Each of the ten cases was 'presented' to the group by one of our members. After the rest of the meeting's business we each wrote cards to as many of them as time permitted. These were then collected to be forwarded together. We covered cases from Bangladesh, Cameroon, Cuba, France, China, Iran, Morocco, Paraguay, Russia and Zimbabwe.  
An interesting postscript is that one of these, Aleksandra Skochilenko (Russia), was included in the BBC 100 Women 2022 list https://www.bbc.co.uk/news/resources/idt-75af095e-21f7-41b0-9c5f-a96a5e0615c1 announced the following day. Also on the list was Nazanin Zaghari-Ratcliffe, whose release from Iran had been a cause for celebration earlier in the year.
Dr Mohammed al-Roken (UAE)
The group are continuing with the 'keys campaign' on social media, using photographs and videos kindly provided by group members to ask for Dr al-Roken's release.
Alaa Abdel Fattah (Egypt)
The group have formally adopted the British-Egyptian Alaa Abdel Fattah as our second prisoner of conscience case, following earlier work on his behalf.
Details of his case and how people can take action can be found here.
Barbara and Siddhi have drafted a letter sent by members to eight targets amongst the authorities in Egypt.
A number of letters have been sent to local MPs and responses received from the Foreign, Commonwealth and Development Office.
It had been hoped his release might have been achieved in parallel with the COP 27 conference in Egypt, during which Alaa had gone on hunger strike. This didn't happen, so the campaign continues.
Our Secretary ran through a number of good news stories, many admittedly 'qualified', which provide encouragement for Amnesty's (and our) work.
Our Chair reported on the group's social media work. Sutton Amnesty has now tweeted or retweeted over 1600 times with the recent focus on Iran, and our two cases Dr Mohammed al-Roken and Alaa Abdel Fattah.
A very big thanks to Barbara for cakes and refreshments which were thoroughly appreciated.
View latest posts