6 December 2021 Meeting Highlights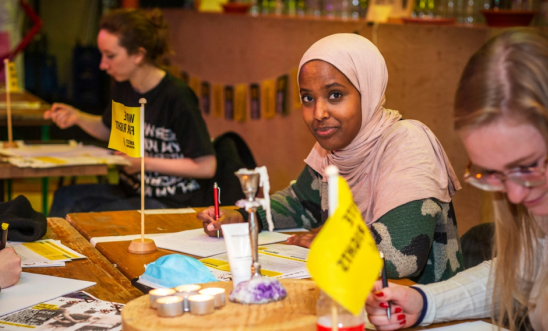 At the meeting the group participated in the annual Amnesty "Write For Rights" 2021 Campaign. Group members presented the stories of 10 individuals, communities and organisations worldwide whose rights are being abused and who urgently need the group's support.
What is unique about this campaign is that group members were encouraged to send or email a message of solidarity DIRECTLY to those people who are being abused, letting them know the group are thinking of them. Participants were also encouraged to write a letter appealing to those with the power to stop these abuses. Countries where action was taken included Belarus, China, Egypt, Eritrea, Ukraine, Guatemala, Mexico, Thailand, Nigeria and the Occupied Palestinian Territories.
The group were also encouraged to send greetings cards directly to Sutton AI's prisoner of conscience, Dr Mohammed al-Roken, who is currently serving a 10 year jail sentence in the United Arab Emirates. Sutton AI recently received an acknowledgment from the office of the UAE Ministry of the Interior regarding this case, and the group also participated in a "Twitter Storm" on November 23rd, again asking for Dr Al-Roken's immediate release.
The meeting ended with a virtual Xmas social event.
View latest posts