4 July 2022 Meeting Highlights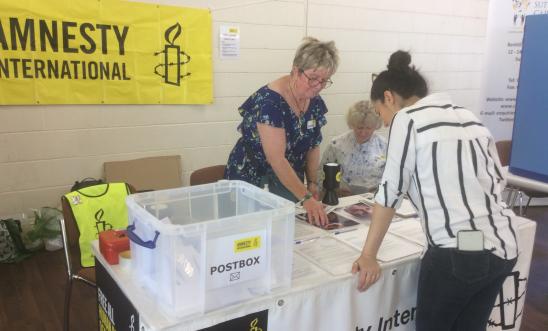 Sutton Amnesty at the Small Charities Fair in June
Urgent Actions
Our Secretary ran through the Urgent Actions for the meeting comprising the cases of:
Elena Milashina (Russia) a journalist with Novaya Gazeta who has continued the work of the murdered Anna Politkovskay and is now considered to be in grave danger herself
indigenous environmental defenders in Canada asking that their right to withhold consent to construction of gas pipelines on their land be respected
Dom Phillips and Bruno Pereira, also environmental defenders, murdered in Brazil. The former is British and the case attracted a lot of coverage in the domestic press. We are asking for their deaths to be properly investigated.
Mohammed al-Roken
Our Chair fed back on the meetings referred to above. Most importantly Dr al-Roken's sentence ended on 17 July but the expectation was that he would continue to be detained as have others of the UAE 94 imprisoned around the same time. The (flimsy) justification for this is a counter-terrorism law which allows continued counselling of those 'adopting extremist or terrorist thought'. [POSTSCRIPT: He has not been released]
The campaign is to be beefed up and the International Secretariat based in Beirut have asked to be at the next UK wide meeting about UAE prisoners.  A new country coordinator for UAE has been recruited by Amnesty and is being trained.
Dr Al-Roken had referenced the line 'In the conflict between the rock and the stream, the stream always wins; not through strength but by perseverance' reflecting his own position (but also perhaps, that of Amnesty's work in general).
Amnesty UK Annual General Meeting
Our Chair had attended this and reported the highlights:
he had placed a question as to what the Board were doing to support local groups. Sen Raj and Sacha Deshmuck (Amnesty UK Chair and Chief Executive) were both positive about local groups suggesting that the activist led framework would be taken further with support given centrally for groups with creative ideas. The Group thought this was positive anyway! In addition the plan is that at national level Amnesty should have a higher profile and stronger media presence which should be more enabling for local groups
the proposal that group affiliation fees should be abolished and that groups' block votes would be removed (put forward by one of the Groups) was defeated
greater clarity would be given on the definition of 'Prisoner of Conscience'. This follows AI's initial (and generally unpopular) refusal to give POC status to Alexei Navalny.
Other matters
The Group discussed their focus over the past year, affirming this and agreeing to continue in the same vein (and better!) through next year. Our Secretary will make contact with the Country coordinator for Myanmar to make sure we are receiving information from there.
POST MEETING EVENTS
Recent event - Sutton Amnesty dinner  
A group of us enjoyed dinner at Heen's Chinese restaurant in Mulgrave Road. Heen's delivered to their normal high standard which was appreciated by all present.
Other urgent actions
Since our July meeting members of the Group have written on:
Alaa Abdel-Fattah (Egypt) - he is still on hunger strike but did not attend his family's most recent prison visit. They are deeply concerned about him. We asked our MPs to work with the Foreign Secretary to secure his release (noting that her meeting with the Egyptian Foreign Minister in early July appeared to have yielded nothing)
Yulia Velasquez and FEDESPAN (environmental defenders in Venezuela) asking that they be given appropriate protection following recent murder attempts
Mohamed Benhlima (a senior military 'whistleblower' in Algeria) now subject to a number of charges including 'terrorism' and with a death sentence hanging over him. Amnesty report this is a common strategy in Algeria. He is believed to have been tortured. We asked for the charges against him to be dropped.
Andrei Pivovarov (Russia) a human rights defender appealing a conviction and four year sentence on charges of 'carrying out the activities of an undesirable organisation'. This is essentially for reporting on the entirely legal activities of 'Open Russia'. We are asking that the conviction be quashed.
View latest posts