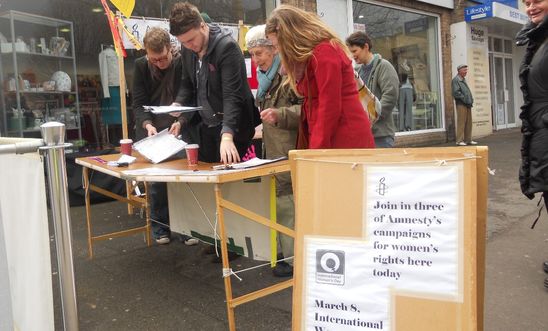 Amnesty street stall in Minehead for International Women's Day 2012
Equatorial Guinea and our work for prisoners of conscience
The Minehead group has been campaigning on behalf of prisoners of conscience held in Equatorial Guinea. This small West African country was once a Spanish colony. Since 1968, it has been ruled by a military dictatorship. It is rich in oil but the poverty outside the governing class is extreme.
In 2002, 64 men were imprisoned after a trial which the Amnesty International delegate observed to be grossly unfair; many of the accused showed signs of torture and ill-treatment. They were considered to be prisoners of conscience on the grounds that they were arrested for their membership of a peaceful party opposed to the government.
Our group's campaign started in 2003. After years of campaigning, some prisoners were released and sadly some died in prison. In 2008 we had the wonderful news that the last 13 men had been released on 5 June. They had been detained for 6 years in very bad conditions.  Apparently, their only "crime" was belonging to a peaceful opposition party that the President did not recognise.
"We are delighted for these men" said one of our campaigners. "It has seemed a hopeless task to keep writing letters year after year, but now we're sure that it was all worthwhile."
Messages received by Amnesty's international office show that, while in prison, the men knew that people far away were concerned for them. One said: "I have no words to thank you for all you have done….especially because nobody was expecting anything."
We continued to campaign on behalf of a group of political prisoners in Equatorial Guinea. We sent greetings cards to the prisoners themselves and wrote regular letters to members of the government. Our five prisoners featured in Amnesty's greeting cards campaign in December 2010, and we were delighted to hear in July 2011 that they had been released. However, it was not all good news as the EG government had done nothing to investigate reports of torture in its prisons and more arrests were made in the run up to the African Union summit held in Equatorial Guinea in July 2011.
Now, once more, in November 2012 we have a casefile to work on. Ponciano Mbomio Nvo is an outspoken lawyer, critical of Equatorial Guinea's government and of the judiciary for its lack of independence. He has taken part in many political and anti-corruption trials and has defended numerous individuals declared prisoners of conscience. He has been suspended from practising on several occasions during his career for his criticism of the government and judiciary.  He has now been suspended from practising law for two years following remarks critical of the government made while defending Wenceslao Mansogo Alo, the doctor for whom we did an urgent action earlier in the year.
It is a new challenge for us to campaign on behalf of someone who is not actually in prison, and an inspiration to work for the human rights of such a courageous person.
Women and human rights
The Amnesty International stop violence against women (SVAW) campaign started globally several years ago. The Minehead group concentrated on raising public consciousness and awareness, and also campaigned on particular issues and cases. More recently the campaign has broadened to include women's human rights more generally. For example, we wrote letters about maternal mortality in Peru.
Our group has displayed material at many local events and venues including summer fetes, the library, surgeries and other suitable places.  Usually members of the public are asked to sign a petition or letter to help stop violence and abuse against women generally, or a specific group such as trafficked women, or sometimes a particular individual. Most years, we have a street stall in Minehead on a day close to International Women's Day (8 March).
Other Campaigns
Our group is also involved in the following campaigns:
security and human rights
death penalty
control arms
poverty and human rights
write for rights (Greetings Card Campaign that takes place every December)
in defence of human rights in the UK (a new campaign starting in 2012/13)
At our monthly meetings we undertake the monthly group actions sent out by the AI UK section office. For example, at a recent meeting we recently circulated a petition about a prisoner on death row in the USA. On another occasion we heard about the discrimination against Roma people in Europe and sent action cards to government ministers.
View latest posts