Manchester Group Mark WOZA's 10th anniversary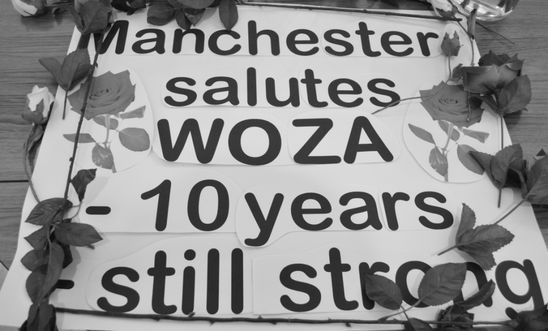 At our February meeting, the Manchester Group marked the 10th anniversary of the first demonstration organised by WOZA - Women and Men of Zimbabwe Arise.
WOZA is a countrywide human rights organisation in Zimbabwe. On Valentine's Day 2003 women carried roses which they gave to policemen and others as they marched to call for improved economic, cultural and political rights for all Zimbabwean citizens. They were met with violence by the police, some women were injured and some arrested. Over the years, members of WOZA have been subject to harassment and hostility. On the very day that the Manchester Group were celebrating WOZA's 10th anniversary, 8 members, including WOZA leaders Jenni Williams and Magodonga Mahlangu, were arrested in Harare after police fired tear gas at a peaceful demonstration and beat protestors with baton sticks.
The Manchester group admire and support the work of WOZA and have sent a message of support to these brave men and women in Zimbabwe.
Downloads
View latest posts