Huge Success At Comedy Night And Booksale This Week!!!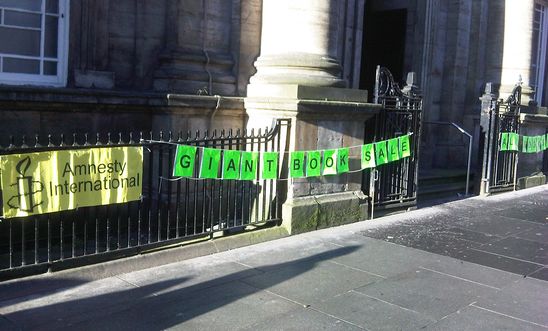 We had a fantastic week for the group this week, with two extremely successful events - our annual comedy night fundraiser on Wednesday, and our giant book sale in the city centre on Saturday! Thanks very much indeed to all who came along and/or helped out.
We took over £700 at the comedy night, and a great laugh was had by all. We also held a popular raffle. Thanks so much to the venue - The Stand, to compere Billy Kirkwood, and to acts Elaine Malcolmson, Martin Bearne, Ashley Storrie and Bruce Morton.
At the book sale we took in over £1,100 in total for Amnesty and Freedom From Torture - from sales of books (over 900 sold), donations, and Christmas cards sold. We also got a full postbag of greetings cards signed by members of the public for prisoners of conscience and human rights defenders, as part of Amnesty's Write For Rights Campaign. Not a bad day's work! Thanks very much indeed to the St George's Tron Church for providing us with such a great venue.
We also collected lots of signatures at both events for our petition to free our adopted prisoner, Salidzhon Abdulrakmanhov, who is in prison in Uzbekistan.
Thanks once again to all who took part!
View latest posts