Taking Action for Turkey: Detained Human Rights Defenders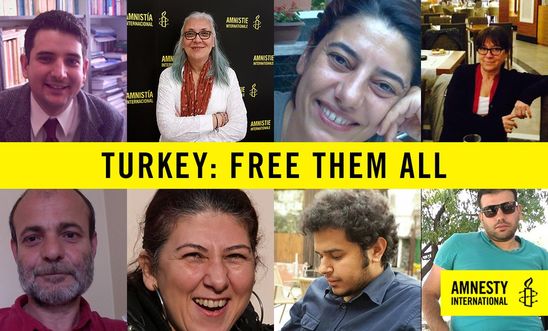 © Amnesty International
July's meeting for the Croydon group saw a special presentation from Amnesty International UK's Country Coordinator for Turkey - Richard Williams. Richard gave a very insightful presentation on the current unravelling on human rights both before and after the recent coup attempt. With Amnesty International staff in Turkey currently detained and freedom of speech within the press a grave concern, Richard gave a thorough introduction into the build-up to the current socio-political crisis.
We'd like to thank Richard for his fabulous presentation and for coming down to Croydon to visit us!
Taking action for Turkey
What's going on in Turkey? Well, thousands of political activists, lawyers, journalists and other people who have spoken out in criticism of the current Turkish government have recently been detained are are facing trumped up terrorism charges. This includes key members of Amnesty International staff. 
On 6th June, Taner Kiliç, the Chair of Amnesty International Turkey, was taken into police custody. Three days later she was charged - alongside 22 other lawyers. The following month on 5th July, whilst attending a workshop in Istanbul, AI Turkey Director Idil Eser was arrested alongside two trainers and seven other human rights defenders.
Dubbed the "Istanbul 10", the group have been charged for "assisting a terrorist organisation". Idil and five others are still in detention whilst four of those arrested have been released on bail. Amnesty insists that the accusations against Taner, Idil and the others detained are "ridiculous and baseless."
Amnesty International is calling on the Turkish authorities to immediately and unconditionally release those detained. 
Take action today! 
Call on the Turkish authorities to free Taner and Idil
More campaigning ideas are also available here via Amnesty International Canada.
For more information on the Amnesty Croydon group, email Beverley at beverley.foulkes-jones@amnesty.org.uk
Test
View latest posts