Swimming for Refugees: A Splashing Success!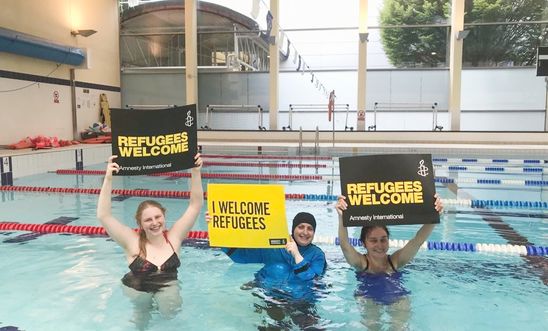 A few months ago, we decided that this year's fundraiser for our local group was going to be a little bit different! We wanted something more fun, powerful and impactful than ever! 
Having focussed on the plight of refugees back in January with our I Welcome exhibition and vigil in-line with Holocaust Memorial Day - as well as having welcomed guest speakers who had been on the ground in Greece where many refugees are struggling to survive - we decided to fundraise for AIUK whilst raising awareness of the refugee cause. And here's where it got even more fun - we were going to do it by swimming!
Turkey to Lesbos: Croydon style!
To mark the treacherous journey that refugees across the globe (from Afghanistan and Syria to name a few countries) are forced to take every day, we decided to cover the swim the distance of 1,142 lengths - the distance from Turkey to Lesbos. We then set ourselves a fundraising target of £1 per length - that's a whopping £1,142!
And so... we're delighted to announce that we swam 1,406 lengths on the day. A few select dedicated participants who couldn't make the date itself swam even more lengths on our behalf in the days before and after the event. This means that we've raised well over £2,000 in sponsorship following the swim!
Spreading the word up and down the UK!
Not only was the event a roaring success but we're also delighted that we managed to gather a range of press coverage of the event. We received double coverage in the latest AIUK magazine and were also featured in local press across the country! 
Check out a few of the features here:
So from everyone in the Croydon group - thank you for your amazing support! Whether you swam with us, sponsored our swimming or simply gave moral support - you helped us not only reach but succeed our target. And of course - a massive thank you to Harriet and Rachel from our team for organising the event! 
Thank you everyone and let's continue to shout it loud and clear: Refugees are welcome here! 
View latest posts