Playing to the Tune of Unity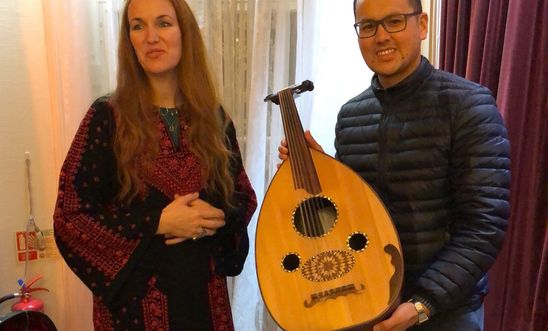 November's meeting saw us welcome the lovely Julia from Unity Music - previously known as Music With Refugees.
A trained musician and singer, in both western and eastern styles and traditions, Julia gave us a brief background to her activities, from studying Archaeology in Egypt, to teaching music in Palestine.
Julia travels around refugee camps, singing and playing music on her oud. Her music crosses borders and relieves tension between different ethnic and religious refugee groups. In fact, she has also enabled a talented young refugee boy, now settled with his family in Sweden, to continue his studies by giving him appropriate sized ouds. Her motto is: "Don't throw people away". 
After an intro to her work, we were delighted to be serenaded with a lovely performance by Julia with her oud, with music and songs from various Eastern countries, which was much appreciated and applauded. With meetings often dealing on heavy topics, we welcomed some fantastic entertainment!
Welcoming refugees: Take action today
With around 25.4 million refugees worldwide, it's crucial we do our part to welcome refugees here in the UK and ensure that their rights are fully respected and fulfilled. 
Amnesty UK is currently calling on the Home Secretary to reunite refugee families here in the UK. Take action today - it takes just one minute and could transform someone's life. 
View latest posts