Heathfield Fair: Defying the Death Penalty in Japan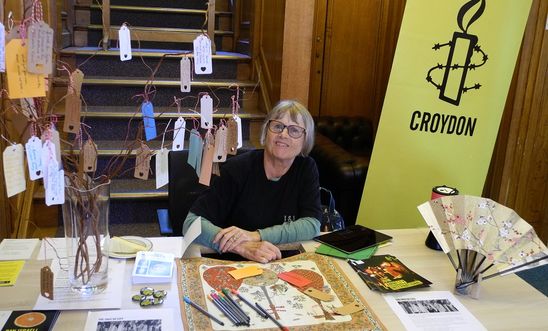 On Sunday 16th September, Amnesty Croydon once again held their spot at the annual Heathfield Heritage Fair to raise awareness of AIUK's work and latest campaigns.
We'd chose to focus on one very important campaign focussed on Japan. We asked fellow Croydonians to call on Japan to end their brutal death penalty, where people have been kept in solitary confinement for decades.
Inviting locals to elaborate the traditional 'Tanabata' festival, we asked each individual to write their wish for Japan to end the death penalty on coloured tags and hang them on our tree.
To mark the World Day Against the Death Penalty on October 10th, a tree with messages collected by Amnesty groups from all over the UK will be delivered to the Japan Embassy.
Thank you to everyone who popped over to say hello and take action with us. See you next year - or even better: at one of our upcoming meetings! 
If you're interested in getting involved with Amnesty in Croydon, please email Beverley at beverley.foulkes-jones@amnesty.org.uk.
View latest posts