AmnesTea - Tea, Cake and Campaigning!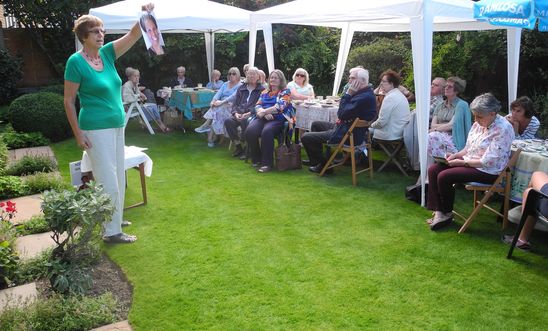 The latest fundraiser for Amnesty Croydon was the infamous annual AmnesTea held by one longstanding group member. Held in her garden, the event was a brilliant success as the community once again came together sampling tea and cake whilst raising money and awareness of Amnesty and several ongoing cases. 
The event, including a bric-a-brac sale, raised £345.08 in total for the local group's funds and a range of actions were taken. A solidarity card was signed by attendees to adopted prisoner Ali Aarrass in Morocco and actions were signed for two Egyptian cases.
Ali Aarrass - ongoing dentention
Ali Aarrass is a critical case which has been adopted by the Croydon group. A Belgian national of Moroccan origin, Ali is currently in prison in Morrocco serving a 12-year sentence after confessing (under torture) to the crime of using weapons illegally and supporting a terrorist group. He has been burnt with cigarettes, been given electric shocks on his genitals, beaten on the soles of his feet and suspended from his wrists. Ali is living in dire conditions and urgently needs our help. 
Take action today!
Write to the Moroccan authorities:
Minister of Justice and Liberties,
Mohamed Aujja,
Ministry of Justice and Liberties,
Place El Mamounia-BP 1015,
Rabat,
Morocco
Email: contact@justice.gov
Director of General Administration for Prison Administration and Reinsertion,
Mohamed Saleh Tamek,
Angle Avenue Arar et Rue El-Jouz,
Hay El Riyad,
Rabat,
Morocco
Please call upon the authorities to:
- Ensure Ali immediate access to a qualified health professional able to provide the care Ali needs in compliance with medical ethics, including respect for patient confidentiality, autonomy and informed consent. 
-  Guarantee that the conditions in which Ali are detained meet the requirements stipulated in international law and the Mandela Rules, providing access to his primary needs, adequate food and bedding.
- Immediately end Ali's solitary confinement and detention immediately, with the provision of adequate compensation.
Send Ali a message of solidarity:
Please send Ali a postcard whilst you're away this summer to show him that he's not alone and that we're thinking of him! Not only does this provide crucial emotional support for prisoners like Ali but it also puts pressure on government authorities.
Send your postcard to:
Numero D'ecrou 930,
Prison Locale de Tifelt 11,
Tifelt,
Morocco 
For more information about the Croydon Amnesty group, please email Beverley at beverley.foulkes-jones@amnesty.org.uk 
View latest posts