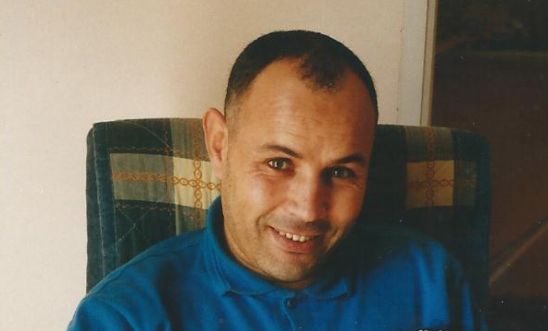 On 14 December 2010, Ali Aarrass, a Belgian-Moroccan national, was forcibly returned to Morocco from Spain, where he had been caring for his ageing father.
The extradition took place despite warnings from both Amnesty and the UN Human Rights Committee that doing so would put the father-of-one at risk of torture and other ill-treatment.
Ali said he was tortured for 12 days in a secret detention centre. He was beaten on the soles of his feet, given electric shocks to his testicles, suspended from his wrists, and burned with cigarettes.
The resulting confession formed the foundation of his conviction for allegedly using weapons illegally and supporting a group intending to commit acts of terrorism.
Ali's claims of torture have never been adequately investigated. In September 2012 the UN Special Rapporteur on torture, Juan Mendez, and an independent forensic doctor visited Ali in detention and confirmed his torture claims.
Ali is still imprisoned today and is serving a 12-year sentence.
Ali's case re-opened
More than 212,000 of you signed our global petition calling on the Moroccan authorities to carry out an independent and impartial investigation into Ali's torture.
On 21 May the Moroccan authorities re-opened an investigation into Ali's claims of torture. The Moroccan authorities have told us this development is directly linked to our work on this case. 
But 16 months later the investigation has stalled.
Hunger strike
Ali has been on hunger strike since 25 August to protest against the delays to his investigation and improper treatment by prison guards.
He is now severely weakened and struggling to walk. His family have told us that he is suffering acute pain in his head, liver and kidneys.
On 13 October he was taken to the prison infirmary on a stretcher, as he could not stand. The medical staff who examined him said he needed to go to hospital but he has yet to be transferred.
Drawings of torture
Ali created these drawings detailing the types of torture he was subjected to.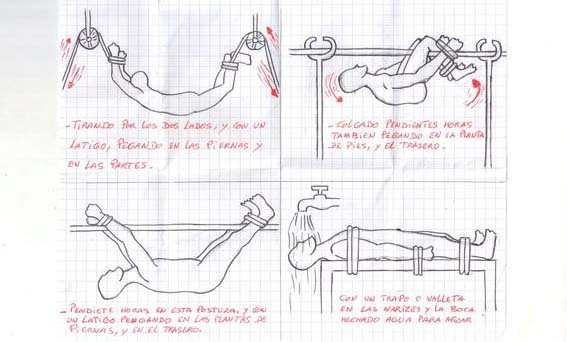 Clockwise from top left: Pulling from both sides, and hitting the legs and the private parts with a whip. Hanging for hours, also hitting on the soles of the feet and the behind. With a tap or cleaning cloth, pouring water into the nostrils and the mouth to drown. Spending hours in this position, and hitting the legs and the behind with a whip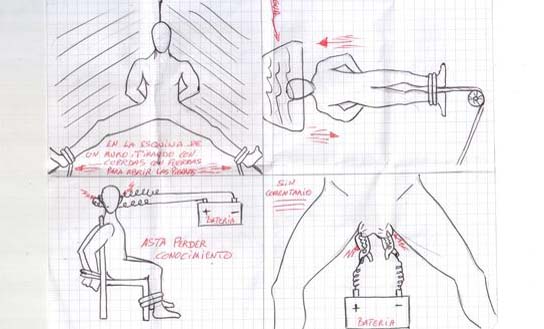 Clockwise from top left: At the corner of a wall, pulling with ropes to open the legs. Shows a person being hung from the ceiling and submerged in water. No comment. (top right) Battery Until loss of consciousness. (Below, middle) Battery.
Torture claims rarely investigated in Morocco
Morocco has repeatedly failed to investigate allegations of torture, prosecute those responsible or compensate and care for victims. Torture is instead central to Morocco's 'justice' system.
Judges and magistrates rely almost exclusively on 'confessions' extracted in police custody under torture or duress. They often refuse to hear defence witnesses or consider any other type of evidence.
Detainees held for interrogation by Morocco's Department of State Surveillance are at particular risk of torture. UN Special Rapporteur on torture Juan Mendez noted a 'systematic pattern of acts of torture and ill-treatment during the detention and arrest process' for detainees in 'national security' and 'terrorism' cases.
What we're calling for
We're urging the Moroccan authorities to:
Implement the decision of the UN Working Group on Arbitrary Detentions (WGAD) calling for his immediate release and adequate compensation
Order forensic medical examinations, in line with the Istanbul Protocol, where detainees bear visible marks of torture or report torture
Introduce video-recording of interrogations and to make the presence of defence lawyers compulsory in pre-arraignment detention as safeguards against torture and ill-treatment
Keep an accessible register of detainees to end incommunicado detention.
Downloads