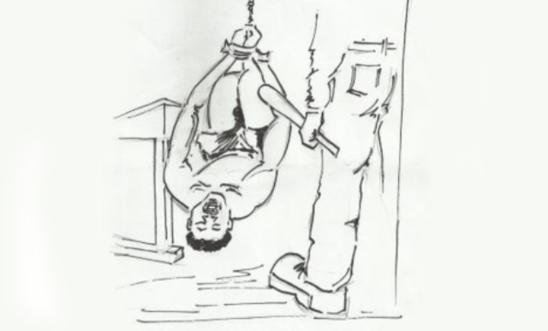 Mahmood was 15 when he was taken by soldiers to Sector Alpha – a facility known locally as 'Guantanamo'. He was beaten with gun butts, covered in melted plastic and forced to watch prisoner executions.
Children, women and men are routinely tortured in Nigeria. Urge the police and military to stop this barbaric practice.
Please take action here https://www.amnesty.org.uk/actions/nigeria-stop-medieval-witch-hunt
What we're calling for
We're targeting two detention centres where we know torture is taking place – the Special Anti-Robbery Squad (SARS) in Awkuzu and Sector Alpha military facility in Yobe state, known locally as 'Guantanamo'.
We want both detention facilities to:
Stop the use of torture
Release detainees or charge them with an internationally recognised crime
Allow detainees access to families, lawyers and medical care
We're also targeting the Nigerian authorities on all levels to put a stop to torture and ensure that those responsible are brought to justice.
Read the full report into torture and other ill treatment in Nigeria below.
Downloads
View latest posts