End Saudi Arabia's relentless crackdown on ACPRA activists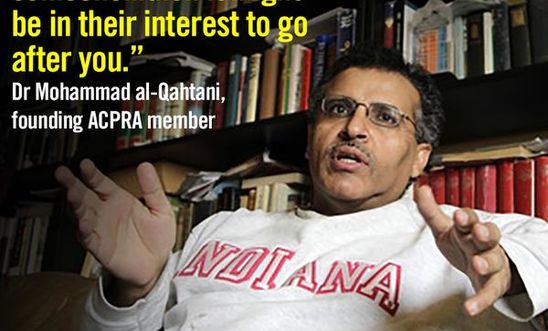 Eleven members of the prominent Saudi Civil and Political Rights Association (ACPRA) are either imprisoned or on trial, silenced for their peaceful activism.
One of few independent, but unauthorised, human rights organizations in Saudi Arabia, ACPRA was founded in October 2009. It quickly established itself as the leading critic of the government, peacefully campaigning for human rights, with a particular focus on political prisoners and detainees.
But since 2011, the Saudi Arabian authorities have relentlessly repressed all forms of free expression and association. One by one, ACPRA members were monitored and harassed; arrested, interrogated and brought to trial on absurd charges not clearly defined in law.
To date, following grossly unfair trials, six of 11 ACPRA members have been sentenced to harsh prison terms of up to 15 years along with travel bans of equal length. The vague charges on which the activists were convicted include "breaking allegiance to the ruler", "forming an unlicensed organization" and "disseminating false information to foreign groups" such as Amnesty International.  Of these six, three are currently serving their sentences and another three are detained awaiting retrial. The remaining five are either detained without charge or trial, or are free pending the outcome of a trial or appeal. The imprisoned members have continued to face harassment and ill-treatment and two of them have reported that they have been tortured in custody.
ACPRA was forcibly shut down in March 2013. However, it remains a stark reminder of the struggle against state repression and represents a vital inspiration for all other activists to speak out for justice and freedoms in Saudi Arabia.
Sign the petition here: https://campaigns.amnesty.org/actions/end-saudi-arabias-relentless-crac…
View latest posts