WRITE FOR RIGHTS, SAT 10 DECEMBER, 12-2PM, ST MARY'S CHURCH BANBURY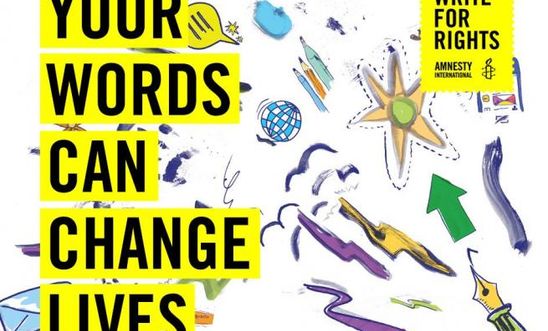 Everyone is warmly invited to participate in our annual signing of greetings cards for individuals suffering human rights abuses in different parts of the world, as part of Amnesty's Write for Rights Campaign. We will be holding an informal "drop in" session in St Mary's Church, Banbury between midday and 2pm on Saturday 10 December (which is also Human Rights Day), with (free) tea/coffee and mince pies. It will be great to see you and popping by for a short time during the two-hour period is fine.
Individual cases in this year's campaign include:
*Fomoseh Ivo Feh, a young man in Cameroon, who faces up to 20 years in prison for forwarding a sarcastic text message
*Maxima  Acuna, a subsistence farmer in Peru, who is standing  up to intimidation and threats of forced eviction
*and the British/Iranian charity worker Nazanin Zagharhi-Ratcliffe who earlier this year was arrested at Tehran airport as she was about to board a return flight to London with her two year old daughter and who has reportedly been sentenced after a short trial to five years' imprisonment for unspecified "national security" offences
All this year's cases can be found in the attached booklet.
This is an opportunity to send these individuals and others short messages of hope and encouragement at a time of great stress and pressure. The Amnesty messages, sent from volunteer groups all round the world, are a great source of hope and comfort, and send a powerful signal that they are not alone. There are well-documented cases of this campaign helping to bring about release or improved treatment. See the attached Success Stories for proof of this.
For more information on the campaign, see www.amnesty.org.uk/write
We hope to see you on Sat 10 December - whether you are able to attend our regular meetings or not. We will have cards and everything else needed, but if you are able to bring some non-religious greetings cards that will help supplement our supplies.
If you have any questions or need further information, please don't hesitate to get in touch.
View latest posts