Free Venezuelan opposition leader Leopoldo López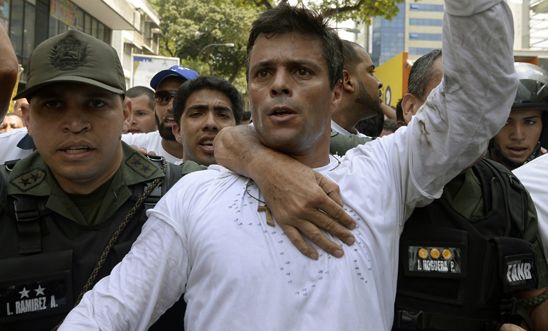 Leopoldo Lopez © JUAN BARRETO/AFP/Getty Images
Imprisoned after an unfair trial. Denied access to medical care.  His crime? Leading Venezuela's opposition party.
Two years ago, Leopoldo López invited Venezuelans to believe in a peaceful, democratic and constitutional change. That call cost him his freedom and unjust imprisonment.
As the leader of the Venezuelan opposition party Political Will (Voluntad Popular), Leopoldo spoke at an anti-government protest but a few days later he was arrested and accused of inciting violence. The day after his arrest in February 2014, President Nicolás Maduro called for his imprisonment. Last September he was sentenced to 13 years and nine months in prison, yet there is no evidence he committed a crime.
During his time in prison, Leopoldo has often been in solitary confinement and denied access to adequate medical care.
In Venezuela defending human rights is a dangerous business
Activists, and even politicians, are increasingly harassed and attacked for criticising the authorities.The case of the disappearing evidence that imprisoned Leopoldo Lopez until 2029 is one in a troubling series of corrupt and oppressive acts by the Venezuelan government.
Leopoldo is leader of Popular Will or Voluntad Popular – an opposition party committed to peacefully promoting their vision of a Venezuela where everyone's human rights and free speech are respected.
To his supporters, Leopoldo represents a new generation of political leader in a country that is dominated by the legacy of Hugo Chávez' authoritarian regime. To the current government, he is a dangerous voice for freedom and fairness.
But the government's blatant politically motivated treatment of Leopoldo became apparent in February 2014 when he was arrested and charged with crimes he had not committed.
Victim of an unfair trial
60 witnesses were prepared to defend him, but the judge allowed only one. And 30 defence exhibits were proposed, but none were allowed. There is also evidence that the prosecutor altered the arrest warrant and backdated witness testimony to make sure that Leopoldo would spend the maximum time behind bars.
His wife Lillian is distraught when she hears what her husband is going through in prison. Especially when the evidence that put him there has effectively disappeared, because it never existed.
"Very often, in the middle of the night, more than 10 officers dressed in black and wearing ski masks burst into his cell and search it violently, throwing all his books, clothes, food, and pictures of our children on the floor, Lillian says.
They overturn his mattress and strip off his sheets and destroy everything."