Refugees and English football
This month marks 80 years since the bombing of Guernica in the Spanish Civil War. Thousands fled the bombs raining down on the Basque Country. Among them were nearly 4,000 child refugees who arrived in Southampton from Bilbao on a recommissioned cruise ship a few weeks later.
No-one knew it then, but six of the boys on the boat would become professional footballers in England, making them some of the first refugees to play in the English league, who went on to play for Southampton, Coventry City, Wolverhampton Wanderers, Brentford, Norwich City, Colchester United and Cambridge United.
Refugee footballers have been making their mark on the English game ever since. Among them are Coventry's Gael Bigirimana who fled the civil war in Burundi in the 1990s. Bolton Wanderers' former midfielder Fabrice Muamba escaped the conflict in the Democratic Republic of Congo, while the families of Arsenal's Granit Xhaka and Watford's Valon Behrami fled violence and persecution in Kosovo, and Liverpool defender Dejan Lovren and his parents escaped the Bosnian War to safety in Germany.
'Refugees have made an important contribution to this much-loved game and to their communities throughout the years. We are delighted that so many football clubs are embracing this. They have a key role to play in helping to promote respect, understanding and integration.'
Kate Allen, Director of Amnesty International UK
#FootballWelcomes
To mark the occasion and to celebrate the huge contribution refugees have made to the beautiful game the football community across the UK will be supporting a new Amnesty International initiative on 22-23 April.
Over 20 football clubs (and counting) are reaching out to refugees in their local communities with free ticket offers, invitations to participate in local tournaments, opportunities to meet the players and a whole range of other activities.
Participating clubs include AFC Wimbledon, Bath City, Blackburn Rovers, Brentford, Cambridge United, Colchester United, Everton, Huddersfield Town, Hull City, Leicester City, Newcastle United, Norwich City, Notts County, Oxford United, Plymouth Argyle, Preston North End, QPR, Sheffield United, Southampton, Stoke City, Sunderland, Watford, Wolverhampton Wanderers, Yorkshire St Pauli, City of Liverpool FC.
'I grew up in Burundi and lost my father in the Civil War there. We had to leave the country in the hope of a better life and although I was separated from my mother for two years, I eventually made it to the UK.

I've been given a second chance in England. I'm so grateful for the support I've been given and the chance to turn your life around is something that every refugee deserves.' Stoke City striker Saido Berahino
Find out more about some of the inspiring work football clubs are doing to bring local communities together to create a safe and welcoming environment for people fleeing conflict and persecution
Want to get involved?
This weekend, 22-23 April, why not join us in celebrating the contribution refugees have made to the beautiful game  by sharing the images below on Twitter with the hashtag #FootballWelcomes.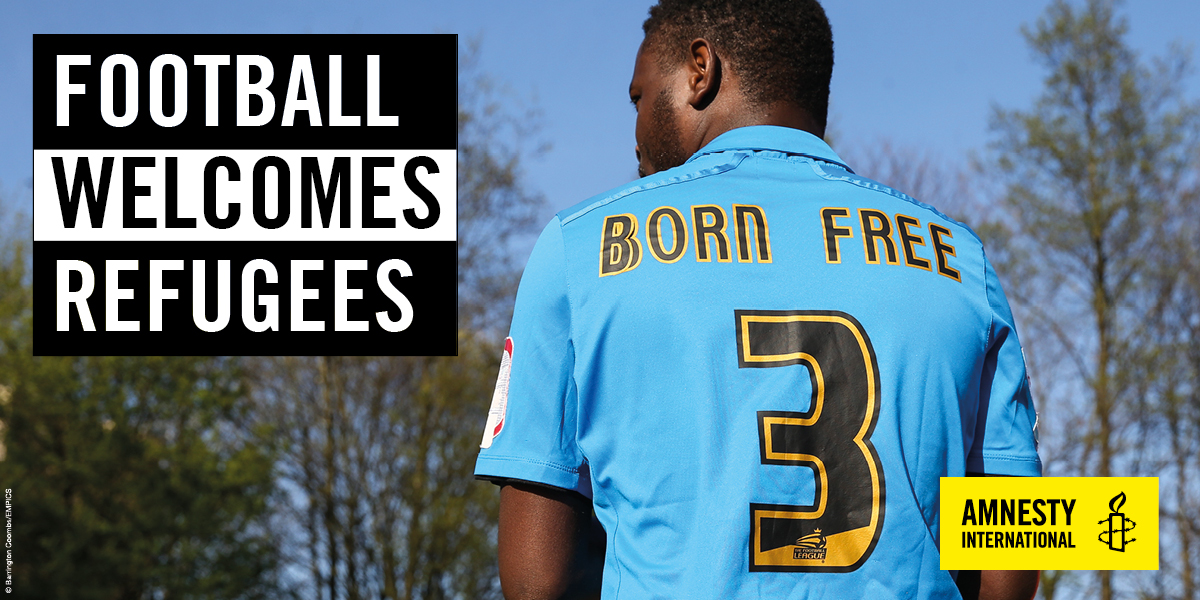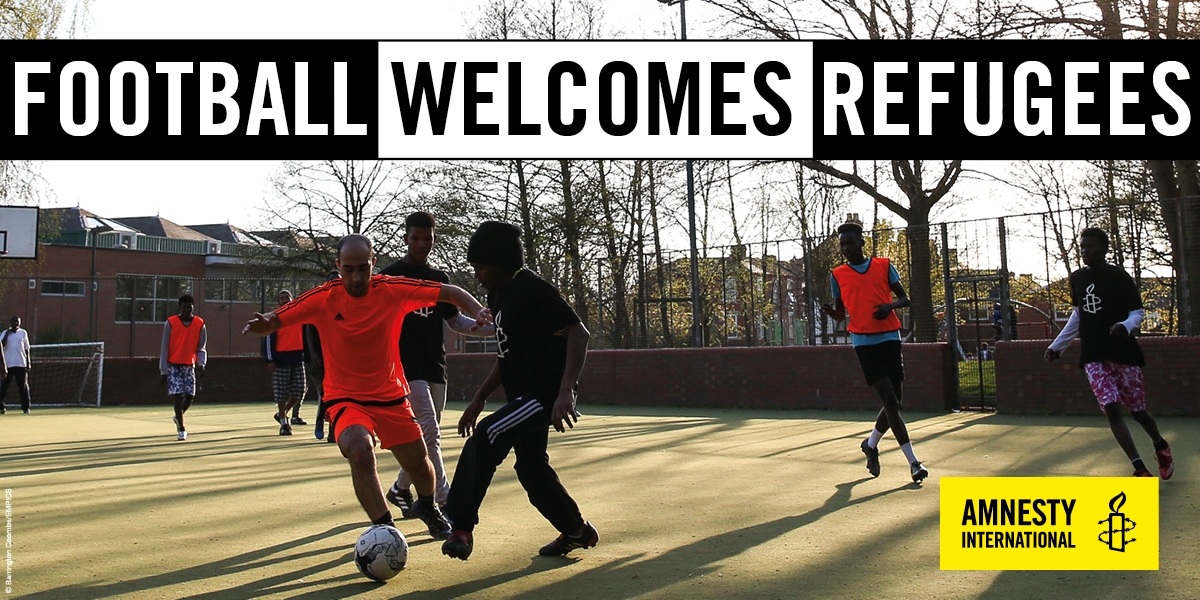 Football Welcomes is part of Amnesty International's I Welcome campaign for a better international response to the global refugee crisis. The campaign encourages local communities to work together to create a more welcoming environment for people fleeing conflict and persecution.