Exposed: British-made bombs used on civilian targets in Yemen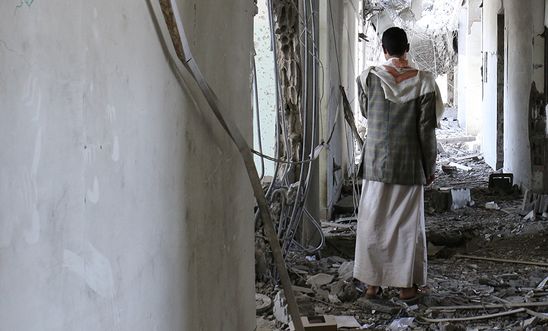 A man stands in rubble of destroyed building in Sa'ada. © Amnesty International
In March 2015, an international coalition led by Saudi Arabia – including the United Arab Emirates, Egypt, Bahrain, Kuwait, Qatar, Morocco, Jordan and Sudan – launched air strikes against the Huthi armed group in Yemen.
The bloody conflict has been raging for a year – but largely ignored by the rest of the world. Devastating air strikes, led by Saudi Arabia, have killed thousands of Yemeni civilians and destroyed homes, schools and hospitals.
Meanwhile, the UK government has been providing weapons to those committing these horrific war crimes.
Evidence of UK-made bomb
The UK has fuelled this appalling conflict through reckless arms sales which break its own laws and the global Arms Trade Treaty it once championed. 
We have evidence of a British-made bomb which was used to destroy a Yemeni ceramics factory – a civilian building.
The attack on the factory in the Sana'a governorate killed one person and violates international humanitarian law.
'This was depressingly predictable. Amnesty has repeatedly warned that UK-made weapons were likely to end up causing civilian casualties in Yemen, but those warnings have been recklessly ignored.'

Kate Allen, Amnesty UK Director
Made in Britain. Ruining lives in Yemen.
The UK is a major supplier of arms and other military equipment to Saudi Arabia.
Last year, the UK issued arms exports worth £2.94 billion to Saudi Arabia in a period of just nine months. They recently diverted a batch of 500-pound 'Paveway IV' bombs to Saudi Arabia. These bombs are used by Tornado and Typhoon fighter jets, both of which are manufactured and supplied to Saudi Arabia by the UK arms company BAE Systems.
With so many missiles sent to Saudi Arabia, we decided the UK government must be running low on supplies. So we delivered five (phony) missiles to Downing Street to replenish their stock.
Giant missiles delivered to Downing Street one year since start of #YemenCrisis: https://t.co/RTQWNJxzI8 pic.twitter.com/GmyqvdWPEj

— Amnesty UK (@AmnestyUK) March 18, 2016
Since the conflict began, the UK government has issued a further 37 arms export licenses. The UK has also refused to condemn the use of internationally banned cluster bombs as it has done in other global conflicts.
Civilians caught in the middle
Thousands have been killed and injured, and a humanitarian crisis has spiralled. Four out of five Yemenis today rely on humanitarian assistance in order to survive. 
The coalition forces have carried out a series of air strikes targeting schools that were still in use. We investigated five strikes on schools between August and October that killed five civilians and injured at least 14 others, including four children.
In total 254 schools have been completely destroyed, 608 are partially damaged and 421 are being used as shelters. 
There is no access to essential services including clean water and electricity, and food prices have soared creating a desperate situation for millions of people. Access to health care is also restricted with medical centres shut down, frequent attacks on medical staff and dwindling supplies of electricity, fuel, medication and surgical equipment.
Hospital bombing
A hospital supported by Médecins Sans Frontières (MSF) in northern Yemen was bombed on 26 October 2015. This attack may amount to a war crime and demands an urgent, independent and thorough investigation.
.@MSF first photos for its health facility in Haydan #Saada after the airstrikes that took place last night. #Yemen pic.twitter.com/PUFEF0Yiq5

— أطباء بلا حدود-اليمن (@msf_yemen) October 27, 2015
Children among the dead
In one airstrike on a home in Dammaj valley coalition forces killed eight children from the same family, and injured nine other relatives.
'There were 19 people in the house when it was bombed. All but one were women and children. The children who would usually be outside during the day were in the house because it was lunchtime. They were all killed or injured. One of the dead was a 12-day-old baby.'

Abdullah Ahmed Yahya al-Sailami, whose one-year-old son was among those killed
Our researchers have found a pattern of appalling disregard for civilian lives displayed by the Saudi Arabia-led military coalition which has declared the entire cities of Sa'da and nearby Marran as military targets. We also have evidence of the use of internationally-banned cluster bombs.
What we're calling for
The UK must end its transfers of arms to the Saudi Arabi-led Coalition carrying out illegal and indiscriminate airstrikes in Yemen.
We must not supply weapons that could be used to commit human rights violations or war crimes. There must also be an independent enquiry into the supply of arms to Saudi Arabia and all parties currently involved into Yemen conflict.
On 24 March 2016, we delivered more than 30,000 signatures calling for an end to the UK's arms sales to Saudi Arabia.