Yemen: attack on MSF hospital may be a war crime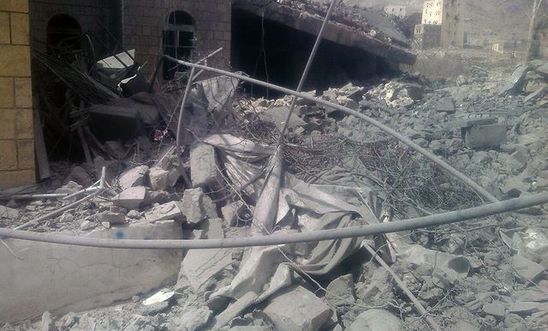 Haydan Hospital after last night's attack © MSF
'This appalling incident underlines our concern that the UK is a party to terrible war crimes in Yemen' - Lucy Wake
The apparently deliberate targeting and destruction of a hospital supported by Médecins Sans Frontières (MSF) in Yemen last night may amount to a war crime and should be independently investigated as a matter of urgency, Amnesty International said today. 
According to local sources, at around 11.30pm last night Saudi Arabia-led coalition forces carried out up to six consecutive airstrikes on Haydan Hospital, located in the Haydan Directorate in Sa'da governorate in northern yemen. 
The hospital had more than 20 people inside at the time, including three patients and various medical and other staff members. Seven staff members were injured, but could not be taken to another hospital some 40 miles away in Sa'da until 7am due to fears of further strikes. 
MSF staff confirmed the attack, saying they witnessed two consecutive airstrikes before fleeing the hospital compound. Three to four further airstrikes were reported, coming around five minutes apart. According to Hassan Boucenine, MSF's head of mission in Yemen, the Saudi Arabia-led coalition has the coordinates of all MSF hospitals in Yemen, including Haydan Hospital. 
According to the hospital's director Dr Ali al-Mughli, the hospital is now completely destroyed with the exception of the storage rooms. He said that while the hospital often receives injured fighters, there was no military activity in the hospital at the time of the attack. 
Dr Ali said there was a delay in taking those injured to the city's al-Jamhouri hospital because airstrikes have been targeting convoys of people, meaning that even ambulances are not safe. The hospital also lost 60 litres of petrol and 1,000 litres of diesel in the strike, a huge loss at a time when fuel supplies in Yemen are scarce. 
This is not the first strike on a hospital in Sa'da since the Saudi Arabia-led coalition's military intervention in Yemen began in March. On 4 September, the coalition reportedly bombed al-Sh'ara hospital in Razih, in the west of Sa'da governorate, resulting in the killing of six patients and the injury of six others. MSF personnel who visited the site afterwards said there was no evidence that the hospital was being used for any military purposes. 
Amnesty International UK Government and Political Relations Manager Lucy Wake said:
"This appalling incident underlines our concern that the UK is a party to terrible war crimes in Yemen.

 

"Only last week Foreign Office Minister Tobias Ellwood said that UK arms supplied to Saudi Arabia had 'probably' been used in Yemen, and now we have this extremely disturbing attack.

 

"There should be an independent investigation into events at Haydan Hospital and meanwhile the UK should immediately suspend all arms exports to Saudi Arabia and other members of the coalition currently bombing Yemen that could be used in attacks like this." 
UK arms to Yemen
The UK, which is a major supplier of arms and other military equipment to Saudi Arabia, has recently diverted a consignment of 500-pound "Paveway IV" bombs to Saudi Arabia. The weapons are used by Tornado and Typhoon fighter jets, both of which are manufactured and supplied to Saudi Arabia by the UK arms company BAE Systems. The Tornado and Typhoon jets have been used by Saudi Arabia in its military operations in Yemen. When pressed on the matter, UK ministers have previously said that Saudi Arabia has provided it with "assurances" of their proper use.