Between prison and the grave – enforced disappearances in Syria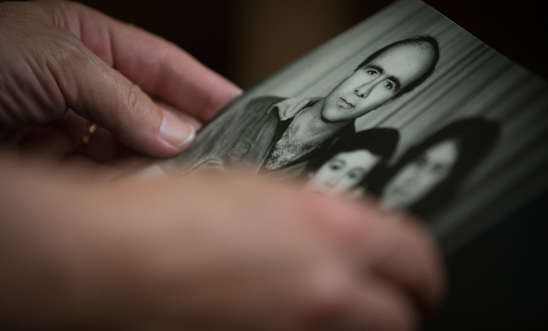 Samar, wife of Fa'eq al-Mir, holding a family photograph at her home in Istanbul, Turkey © Private
Tens of thousands of people in Syria have vanished without a trace. They are the victims of enforced disappearances – cut off from the outside world, packed into overcrowded, secret cells where torture is routine, disease is rampant and death is commonplace.
Their families are forced to live in desperation with few, if any, safe ways of finding their loved ones. Instead they are left only with questions: Where have they gone? Why were they taken? Are they still alive? Have they been hurt?
'The person who is in prison, you know where he is. The person who is killed, you know that he is dead. But this – he is between prison and the grave. We have no idea where he is. This is the worst thing. This is injustice.'

Mother of disappeared detainee
What is enforced disappearance?
When a person is arrested, detained or abducted by a state or agents acting for the state, who then deny the person is being held or conceal their whereabouts, placing them outside the protection of the law.
Enforced disappearance is a crime under international law and places individuals at serious risk of extrajudicial execution, torture and other gross human rights violations.
'A cash cow for the regime'
The Syrian government is using a policy of subjecting thousands of people to enforced disappearance as both a means to crush opposition and to make large amounts of money for itself.
The authorities are profiting from enforced disappearances, which amount to crimes against humanity, through a black market in which family members desperate to find out the fate of their disappeared relatives are ruthlessly exploited for cash.
As part of this black market, 'middlemen' are paid bribes ranging from hundreds to tens of thousands of pounds by family members. Some families have sold their property or used their entire life savings to pay bribes to discover the fate of their relatives – sometimes in exchange for false information.
One man whose three brothers were disappeared in 2012 told us he'd borrowed around £100,000 in failed attempts to find out where they are. He is now in Turkey working to pay back his debts.
A lawyer from Damascus also told us that the bribes are 'a cash cow for the regime … a source of funding they have come to rely on'.
Fa'eq al-Mir's story
Fa'eq al-Mir is a long-term political activist and a leading member of the Syrian Democratic People's Party. Fa'eq went missing on 7 October 2013 after leaving his house in the government-controlled al-Khoussour neighbourhood of Damascus.
About an hour after Fa'eq left, 20 men in civilian clothes who were believed to be members of the security forces entered the house and told his family that Fa'eq had been arrested.
Since that day, Fa'eq's whereabouts have been unknown.
Image: Fa'eq al-Mir and his wife, Samar, in 2008. Private
Fa'eq's family made two official requests to the Syrian authorities, in November 2013 and mid-2014. They have also made several efforts to locate him through informal channels, but the information they have received so far is conflicting and inconclusive.
'It's not like my father wanted anything very huge or impossible. He just wanted freedom and the chance to vote. For this, he spends his life in prison. For this, he has disappeared. All for something so simple.'

Ali, Fa'eq's son
Searching for the missing is dangerous
Family members who inquire about disappeared relatives are often at risk of arrest or being forcibly disappeared themselves, which gives them little choice but to resort to using black market methods.
One man who went to Damascus to look for his disappeared son was arrested at a military checkpoint on the way and has not been heard from since.
Lack of international action
While some states and the UN have condemned enforced disappearances, much more is needed.
More than a year and a half ago, in February 2014, the UN Security Council adopted Resolution 2139, which calls for an end to enforced disappearances in Syria, but it has yet to take further steps to ensure it actually happens.
'Words which are not followed up by concrete action will not help the victims of enforced disappearances. The UN Security Council must urgently refer the situation in Syria to the Prosecutor of the International Criminal Court and impose targeted sanctions, including asset freezes, to pressure the authorities to end enforced disappearances.'

Philip Luther, Amnesty International's Middle East and North Africa Director