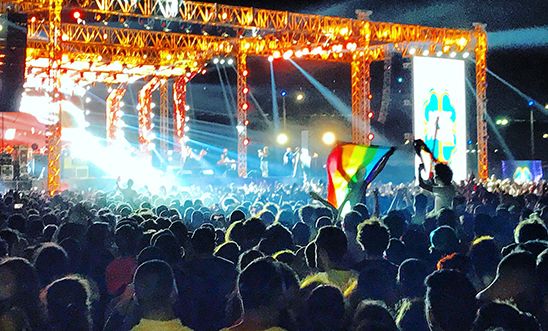 Rainbow flag being raised at a Mashrou' Laila concert in Cairo, Egypt on 22 September 2017 © © DPA/PA Images
A wave of arrests
Ever since a rainbow flag was raised at a Mashrou' Leila concert in Cairo on 22 September, the number of individuals arrested based on perceived sexual orientation has been steadily growing. 70 people have been arrested and more than 40 sentenced for up to six years.
The incident of displaying the rainbow flag at the concert provoked a public outcry from local media that called for those involved to be brought to justice.
This smear campaign prompted Egypt's public prosecutor to announce an investigation into the promotion of "habitual debauchery" and "homosexuality" on 25 September.
He further ordered state security prosecutors to open investigations against those who raised the flag at the concert.
Entrapment
Eventually, two people who had allegedly raised the flag were located and arrested. But things didn't stop there. Further arrests based on perceived sexual orientation were made in other districts of Cairo, Ismalia, Damietta and Sharm al-Sheikh.
They also used entrapment through online dating applications to locate people to arrest.
Beaten and sexually harassed
Amongst those arrested and sentenced is Sara Hegazy. She faces charges of "habitual debauchery," "inciting debauchery", "promoting sexual deviance" and "belonging to a banned group". These charges can carry prison sentences of up to 15 years under the penal code and the law on prostitution.
Sara told the prosecutor who questioned her that she was beaten and sexually harassed by her cell mates in Saida Zenab police station after the security forces there informed them that she was charged with "habitual debauchery."
A new homophobic law
Currently, Egyptian parliament is considering passing a new bill criminalising same-sex relationsips in Egypt. If passed by the president, individuals could face up to 15 years in prison.
Stop the persecution
Anyone who is detained solely because of their real or perceived sexual orientation or gender identity is a prisoner of conscience. The Egyptian authorities must:
immediately and unconditionally release all those detained based on their real or perceived sexual orientation, quash all sentences and drop all charges against them, and stop any further arrests;
immediately halt forced anal examinations which amount to torture or other ill-treatment, and order a prompt, impartial and effective investigation into the examinations that have already taken place;
reject the new bill criminalising "homosexuality" and any future legislation which fails to recognise and protect the rights of everyone, regardless of their real or perceived sexual orientation or gender identity, to freedom of expression and assembly, freedom from discrimination and equality before the law.
Over 22 thousand of you signed our petition calling for justice for those arrested and for their sentences to be quashed. Thank you.
Whatever happens next, we will keep informed.