Under pressure – UK arms sales to Saudi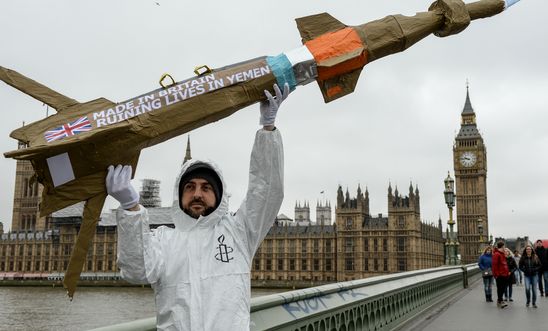 By Lucy Wake - Government and Political Relations Manager, Amnesty UK
If we have learnt anything from the suffragettes, global human rights movements or gay rights campaigners it must be this. Change is not inevitable. Change is hard fought for and won. Collective action is powerful. Rebecca Solnit reminds us that:
"we write history with our feet…we [know we] can change the world because we have many times before".  
Our work, together, produces extraordinary results. Prisoners of conscience are released. Death sentences are commuted. Governments are persuaded to change their laws and practices. 
Our fight for a global Arms Trade Treaty took over twenty years. From a humble idea conceived by NGO workers and much derided…to a UN Treaty back by powerful countries across the globe. We took a pivotal role in securing this treaty; we signed petitions, lobbied MPs, took millions of photos, held concerts, ran marathons, sat in baths of blood, took a tank to Parliament, filled Trafalgar Square with graves, assembled a full-sized cardboard attack helicopter… the list goes on. And guess what. We won. 
However, now is when the hard work begins. We have to ensure that those hard fought over golden rules protecting human rights really do mean that governments now actually stop selling weapons to areas where they pose such appalling risks to civilians by fuelling such devastating cycles of armed violence. And that includes by the UK government. And your work has been invaluable in helping us do this so far.
Back in 2013 the UK  government were proud of the role [they] played in securing this treaty that "would make the world safer for all".  Cut to 2017 where UK Government is in breach of this very landmark Arms Trade Treaty. It is supplying weapons to Saudi Arabia in the context of its bombing campaign in Yemen, with a devastating cost of thousands of civilian casualties. So why do the UK keep arming Saudi? And how do we stop them in the face of this crisis? 
With your help we have not only told the world about this crisis, highlighting the scale of human rights abuses but we also continue to put the UK under pressure to suspend their arms to Saudi Arabia. Thanks to your emails and letters to MPs, messages, tweets, contributions and general awesome campaigning so far, we have: 
And as you might suspect, we won't stop there. We wait with baited breath of news from the legal proceedings in the High Court, where Campaign against the Arms Trade (CAAT) challenged the legality of the UK's continued arms exports to Saudi Arabia. So keeping up the pressure will be key. I'm sure you'll join us …. 
 
About Amnesty UK Blogs
Our blogs are written by Amnesty International staff, volunteers and other interested individuals, to encourage debate around human rights issues. They do not necessarily represent the views of Amnesty International.
View latest posts